Boston College
Regional Director, Major Giving
New England

Boston College has retained the executive search firm of Deerfield Associates to conduct a national search for this position. Send names of nominations, or for interested candidates, please send a letter of interest, resume and a list of 4 references (who will only be contacted if mutual interest is determined) to: Doug Cooney, President of the search firm, who is heading up the search. jobs@deerfieldassociates.com
---
Overview:
Boston College (BC) is one of the nation's best and most selective universities located on one of the country's most beautiful college campuses. Grounded in the ideals that inspired its Jesuit founders, BC urges students to look inward but always to reach out — to develop their minds and talents to the fullest and use them in service to others. Currently ranked 36th among national universities in U.S. News & World Report, BC enrolls 14,900 students in more than 50 fields of study, through eight schools and colleges in Boston, America's preeminent city for higher education. BC has over 850 talented faculty, an undergraduate acceptance rate of 19%, and is home to 31 men's and women's NCAA Division I sports teams.
BC endeavors to educate a new generation of leaders – men and women who will be capable of shaping the future with vision, justice, and charity – with a sense of calling and with concern for all humankind. It pursues this challenge because it is a worthy goal for any university, but particularly BC, a university uniquely suited to be a beacon of hope and light for all.
---
Advancement Overview:
BC's Office of University Advancement, led by Senior Vice President Jim Husson, has experienced significant growth and success in recent years. Currently staffed at 235, the division has attracted some of the most capable and collegial professionals in the field. With one of the industry's highest retention rates combined with a culture of community, collaborative best practice, and career progression, BC Advancement is a leader among its peers.
The Office of University Advancement is proud to partner with dedicated campus colleagues and a global network of volunteers in engaging our loyal community of BC Alumni, Parents and Friends. Our work is grounded in the mission of Boston College and guided by these four core values:
We inspire alumni, parents, and friends to establish BC as a priority in their lives and to support its academic and societal mission as a Jesuit, Catholic university.
We secure philanthropic resources that fuel the work of our faculty and students and enable the University to realize its fullest potential.
We foster a culture of inclusion and mutual respect, working as men and women for others in the Jesuit, Catholic tradition.
We are ambitious, striving for performance at the highest levels in all that we do, both individually and collectively, in the spirit of "Ever to Excel."
---
The Role:
The Regional Director, Major Giving, reports to the Associate Vice President, Major Giving & Athletics Advancement, and is responsible for providing leadership to Boston College's major gift fundraising efforts and regional engagement strategy in New England in partnership with fundraising leaders across University Advancement. The Director will oversee a team of major gift fundraising professionals whose primary responsibility is to raise gifts from alumni and parent prospects rated $250,000 to $4,900,000 and successfully lead and motivate a team of fundraisers through virtual and in-person platforms. The Director will also manage a portfolio of 40-60 major gift prospects and be responsible for individual visits and asks, securing at least $3M annually in philanthropic revenue and will demonstrate a commitment to supporting a diverse and inclusive work culture and working with diverse external stakeholders.
The Director will be responsible for the oversight and provision of individual solicitation strategies including the utilization of University Leadership and key volunteers when appropriate; ensuring that prospects are moving through the donor philanthropic process at pace; holding fundraisers accountable to performance metrics; successfully managing a portfolio of prospects and meeting their own fundraising objectives, and proactively supporting the professional development of team members. The Director will serve as the expert on the cultural and philanthropic values of the New England region with a deep understanding of the region's demographic profile. The Director will manage a thoughtful and strategic discovery process for unmanaged rated prospects across the leadership and major giving prospect managers in the New England region and develop a strategic plan for regional fundraising growth and engagement that aligns with the priorities and goals of Boston College's future campaign. The incumbent will be expected to build a pipeline for future philanthropic leaders in the region with a concerted focus on prospects from diverse backgrounds, provide intelligence on existing prospects, seek feedback on programming, and the hosting of events.
Critical to the success of the Director will be the ability to effectively collaborate with fellow Regional Directors, the Director of Parents, as well as other fundraising units including Athletic Development, Corporate and Foundation Relations, Gift Planning, Leadership & Annual Giving, and School Development. Productivity will be measured through the growth of individual performance and regional gift commitments across the major gift bands.
---
Requirements
This position requires a proven track record of soliciting and closing six- and seven-figure gifts or closely related and transferable experience.
This position requires a Bachelor's degree and seven to ten years of professional experience as a performance-driven gift officer, preferably within higher education or another nonprofit organization.
A Master's degree is preferred.
The successful candidate should have proven experience with mentoring and leading high-performing team members; strategic planning; and superior verbal, written, and interpersonal communication skills with a specific ability to create a compelling case for support, including written proposal development.
Must be a team player who is highly motivated and dedicated to the goals of advancing higher education and have an appreciation for Jesuit Catholic education and the goals and values of Boston College.
The office of University Advancement supports the mission of Boston College by promoting a culture of inclusion that values each individual. Our recruiting practices support that commitment to build diverse teams reflecting our community: students, alumni, parents and friends of Boston College.
---
Leadership:
Jim Husson
Senior Vice President for University Advancement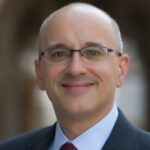 Jim Husson is the senior vice president for university advancement at Boston College, overseeing the University's development and alumni relations functions. He joined the development team in 2002 as the vice president for development and was promoted to his current position in June 2004. Jim and his colleagues spearheaded Light the World, the University's 150th anniversary campaign, which concluded in 2016, having raised a record $1.6 billion in gifts from more than 140,000 alumni, parents, and friends.
Jim has more than 30 years of experience in educational advancement and has served as the vice president for development for Brown University and as the director of major gifts for Harvard's Faculty of Arts and Sciences. Early in his career, he worked for two private secondary schools, Northfield Mount Hermon School and Cushing Academy, and for the Harvard Graduate School of Design.
Jim plays a leadership role in the Council for Advancement and Support of Education (CASE), a professional organization for fundraising in higher education. He served on the Summer Institute in Educational Fundraising (SIEFR) faculty from 2008 to 2019 and chaired the Institute from 2017 to 2019; he also served as chair of the CASE50 data task force and chair of the 2015 CASE Summit for Advancement Professionals.
He is a graduate of the University of Rochester and Northfield Mount Hermon School and is a BC parent.
Amy Yancey
Vice President for Development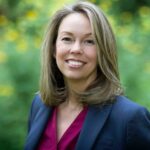 Amy Yancey joined Boston College in October 2019 as vice president for development where she oversees a team of fundraisers dedicated to advancing BC's mission through philanthropy. Amy has more than twenty years' experience in higher education fundraising, working directly with alumni and parent leaders. Prior to joining Boston College, she served as associate vice president for development at UVA where she oversaw the central fundraising team in their $5 billion campaign. Amy previously held pivotal roles at Penn State and the University of Tennessee. She was vice president for production at Mars Publishing, a computer industry start-up in Los Angeles, before pursuing a career in advancement. Amy holds a BA and an MS, both from the University of Tennessee.
Wesley Ellison Stewart
Associate Vice President for Major Giving & Athletics Advancement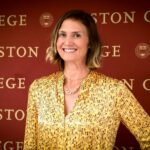 In her tenure, she has led the regional, parent, and athletics advancement teams to breakout years, envisioning and executing on complex organizational change that implements best practices and positions BC to be ambitious in its next campaign. Her leadership in this role has had a direct impact on the past three record breaking years at BC. She was promoted into this role from previously serving as Associate Vice President for Major Giving and Senior Associate Athletics Director for Development, the role in which she was recruited to BC in 2018.
Wesley brings 13 years of experience as a national leader in successful higher education and athletics fundraising, advancing women in the industry, and creating inclusive and diverse workplaces. She has successfully served in previous roles at the University of Texas, University of Michigan, and University of Virginia. Wesley is a regular speaker at Women Leaders in College Sports & NACDA. She also consults with university advancement & collegiate athletics departments to build infrastructure and training programs that promote inclusive, positive, and supportive organizational cultures.
She graduated summa cum laude in 2008 with a degree in fine arts from Michigan while earning Big Ten All-Academic honors as a member of the Wolverines' water polo team. She completed her master's degree in intercollegiate athletic leadership from the University of Washington in 2009.
She resides in Boston, Massachusetts with her husband and two children.
---
Background Checks
Prior to submitting your resume for this position, please read it over for accuracy. Deerfield Associates does verify academic credentials for its candidates, and also conducts references as part of the search process.
Boston College conducts pre-employment background checks as part of the hiring process and requires all employees to be fully vaccinated for COVID-19. Boston College is an affirmative action, equal opportunity employer. In concert with our Jesuit, Catholic mission, Boston College is dedicated to the goal of building a culturally diverse and pluralistic faculty and staff committed to teaching and working in a multicultural environment and strongly encourages applications for women, minorities, individuals with disabilities, and covered veterans. To learn more about how BC supports diversity and inclusion throughout the university please visit the Office for Institutional Diversity at https://www.bc.edu/offices/diversity. Boston College's Notice of Nondiscrimination can be viewed at https://www.bc.edu/nondiscrimination.