Friends Academy
Director of Advancement
Deerfield Associates Executive Search, Inc. has been retained by Friends Academy, located in Locust Valley, New York to conduct a national search for a Director of Advancement.
---
Friends Academy
Rooted in over 300 years of Quaker education, Friends Academy has been a mainstay of robust inquiry and ethical action on Long Island since 1876. A seminal Quaker, co-educational college preparatory school that serves 765 students from nursery school through twelfth grade, Friends Academy educators prepare their diverse graduates for success in college, career and beyond. Students emerge with a fluency in multiple intelligences ­– from creativity and complex problem solving to cognitive excellence, empathy and ethical decision-making.
Located on 65 expansive acres on the north shore of Long Island, Friends Academy grew from a 6-acre gift in 1876 from Quaker businessman Gideon Frost to the thriving and diverse community it is today, with students from 50+ school districts across Long Island and Queens. Less than an hour from New York City, Friends students take advantage of the city's rich cultural resources, as well as Long Island's unique historical, scientific and topographical features. For more background on the Academy please visit www.fa.org
The Friends Academy campus features an array of stately architecture that encircle the grassy, tree-dotted Quad – the Middle School (renovated 2017), includes strategic collaborative open learning areas and a MakerSpace; the Main Gym and Fieldhouse (renovated 2011), with four full-sized courts and an indoor track; a recently renovated Lower School (2010); the Helen A. Dolan Center (2000), featuring our breathtaking 400-seat Theater, Arts center and Dining Commons; the Kumar Wang Library (2000), a glass-enclosed multi-level learning commons; and the Upper School (renovated 2004).
The Friends Academy learning community is one that values authentic connection across grades, disciplines and divisions. An outstanding and experienced body of 126 full- and part-time faculty hold 108 master's degrees and 5 doctorates. There are 224 students in the Lower School, 175 in the Middle School and 370 in the Upper School and they establish meaningful relationships with each other through repeated community activities, performing arts, all-school service and more.
Financially sound and growing, the current endowment of the School is $59 million and is closely managed by a committed investment committee of expert trustees and parents. A thriving Annual Fund raises $1.9 million and has garnered record parent participation of 83% in recent years from a community of 513 families, as well as over 4,000 alumni. The Friends Academy Dinner & Auction, one of FA's largest fundraisers, underwent a transformation over the last few years and has gained momentum, both in attendance and gross revenues which have climbed to $925,000 annually. Friends Academy is poised to launch and execute a new Strategic Plan in September 2018. Over the past 10 months, the strategic planning process, One Vision. Every Voice. has connected with every constituent in order to assess new pivotal priorities for Friends Academy's next chapter.
---
Director of Advancement
The Friends Academy Advancement Office promotes and encourages the School's culture of philanthropy and seeks to nurture and inspire parents, alumni, grandparents, parents of alumni, students, colleagues, friends and partners to stay actively connected, involved and give back.
An integral member of the senior administrative team, the Director of Advancement reports directly to the Head of School and works closely with members of the Board of Trustees. S/he is responsible for the vision, planning, management and execution of Friends Academy's fundraising and engagement initiatives and plays a critical, front-line role in securing strategic and transformational gifts. This opportunity is available in July 2018.
The ideal candidate will be:
A strategic partner and valued source of development expertise and perspective to the Head of School and Board of Trustees;
A thoughtful, ethically-minded, team-oriented facilitator who is self-motivated and resourceful, a creative problem-solver, and one who can build unity, lead and affect consistent and key change;
An expert who has engaged in the planning and execution of a successful capital campaign;
A continual learner who is technology-savvy and well versed in multiple platforms, from fundraising database management to social media strategy;
A collaborator who can create a culture and environment in the Advancement Office that encourages inclusivity, organization, hard work, teamwork and good humor;
A deep listener and reflective communicator, who understands and embodies the core values of a Quaker school and can secure the trust and confidence of every constituent at all levels.
---
Responsibilities
Staff management
Provide clear vision, management and supervisory leadership to a staff of four, including the Director of Annual Fund and Special Events, the Director of Alumni Relations, and two Development Assistants;
Establish and implement a system of metrics and strategy for measuring progress toward goals and evaluating overall performance;
Coordinate the efforts of the Advancement Office to ensure all goals are met, including fundraising and Development-related community/parent events.
Fundraising, Prospect and Portfolio Management
Manage and cultivate a targeted portfolio of prominent leadership & planned giving donors and prospects;
Envision, lead and execute capital campaign(s);
Maximize gift support and identify donor funding opportunities that match Friends Academy's institutional priorities and the School's Quaker mission;
Develop strategies for increasing philanthropic support (i.e. growing Annual Fund and increasing participation from all constituents, including new outlets);
Conduct and oversee major and supplementary prospect research and stewardship; provide recommendations for strategies.
Peer and Constituent Relations
Work collaboratively with the Director of Annual Fund and Special Events, Director of Alumni and the Director of Communications on programs and initiatives that build community and a culture of engagement and philanthropy;
Collaborate with the Communications Office to align messaging and objectives;
Coordinate with the Admissions Office to ensure alignment of institutional objectives;
Become fully engaged in school life so as to gain deep understanding of Friends Academy's academic and extracurricular programs, students, colleagues, volunteer leaders, alumni, community partners/neighbors to strengthen the School's external outreach and partnerships;
Serve on the Head of School's senior administrative team, Board Advancement Sub-Committee and other committees as assigned.
Qualifications and Skills
8+ years in institutional advancement, preferably at a non-profit with an educational component and a proven success in annual, capital and endowment fundraising;
Demonstrated interpersonal success in leading staff, establishing goals and managing performance;
Fluency in current technology and trends, including social media platforms, fundraising database management, Google Apps and the Microsoft Office Suite;
Strong organizational and collaborative skills;
Excellent communication (oral and written), persuasion, presentation and active listening skills;
Strong mentorship ability;
Experience working with and connecting to a large and diverse community.
Bachelor's degree required, a Master's degree in a related field preferred but not
required.
---
Andrea Kelly – Head of School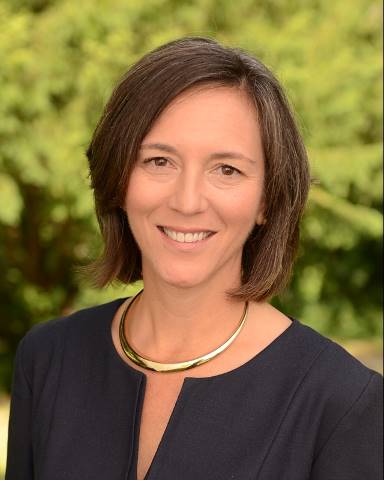 As Friends Academy's first female Head of School, Andrea Kelly believes in a school that is passionate about continuous challenge, growth and discovery. "We are building a community that is energized by directed change and authentic transformation. Our number one priority is to ensure our graduates thrive and lead in a world where constant change is the norm."
Kelly joined Friends Academy as its 24th Head of School in July 2017 bringing to FA a career of 30+ years in education and independent school experience.
Upon arriving at Friends, Kelly immediately embarked on an in-depth community listening tour, personally and individually meeting with over 150 parents, colleagues, students and alumni. This high level of interaction and reflection afforded her the pathway to ignite the School's next Strategic Plan – the first in a decade. In conjunction with the Core Team, Kelly steered the 10-month Strategic planning process, One Vision. Every Voice. that connected with every constituent of the Friends Academy community through a series of interviews, forums, surveys, focus groups and Visioning Conference. This process will culminate this summer, with a full community launch of the Strategic Plan in September 2018.
In partnership with the Strategic Plan, Kelly introduced a key rethinking of new teams and systems, including a new Associate Head of School for Academic Affairs who will lead a concerted student-centered learning model and new Student Life Team, which intertwines Student Health & Wellbeing, Equity & Inclusion, Service Learning and Quakerism. These initiatives will launch in force in September 2018. Before joining Friends Academy, Kelly served as Assistant Head of School for four years at Packer Collegiate in Brooklyn Heights. Prior to that position she served as Lower School Head for 10 years, following a 17-year career in the classroom in both public and independent schools.
---
Friends Academy Images
---
Benefits
Friends Academy offers a stimulating and supportive work environment, competitive salaries and a generous benefits package including medical plans, retirement plans, tuition benefit, and paid vacation.
Friends Academy is an Equal Opportunity Employer.
The opportunity is available immediately upon the identification of the candidate of choice.
We encourage you to learn more about Friends Academy at https://www.fa.org/
---
---