Greens Farms Academy
Director of Communications and Marketing
Deerfield Associates has been retained by Greens Farms Academy (GFA), located in Westport, Connecticut, to conduct a national search for a Director of Communications and Marketing. This opportunity is available immediately and will be filled following a comprehensive national search and the candidate of choice is identified.
---
The School
At Greens Farms Academy (GFA), students are empowered to do the hard, thrilling, essential work of shaping their own world, of building their own future. More than 700 PreK -12 students come from 23 towns in Fairfield and Westchester counties and form a joyful community that aspires to live by the school's motto, "Each for All." Founded in 1925, GFA is situated on a former Vanderbilt estate in a scenic 44-acre campus located in Westport, CT. The school's highly regarded academic program is built around small class sizes (average 15), mentoring partnership with faculty (8:1 student to teacher ratio), and innovative programs designed to support students' pursuit of questions that matter to them. The faculty is characterized by its growth mindset – embracing innovation, exploring a range of student-centered approaches, and constantly seeking to better serve their students. For additional information on Greens Farms Academy please visit their website.
A stunning waterfront campus in Westport, CT, comprises three ecosystems – a salt marsh, Audubon woodlands, and the Long Island Sound – and architecture ranging from a modernized Vanderbilt estate to a state-of-the-art center for arts and global studies. GFA has graduated thousands of compassionate, enterprising, broad-minded women and men – people with the courage and vision to build a better world. The GFA mission plays an essential role in school life: GFA engages students as partners in an innovative, inclusive, and globally-minded community to prepare them for lives of purpose. Faculty and staff have committed that language to memory, along with the core values — passion, integrity, empathy, curiosity, excellence — so as to better live out the spirit of those words.
GFA is a suburban school close to major transportation and a five-minute walk from the Greens Farms Metro-North train station. The campus sits on the Long Island Sound, a half-hour south of New Haven and an hour north of New York City by car or commuter train.

---
The Position
Greens Farms Academy is seeking an experienced, ambitious and strategically oriented communications and marketing professional to work in partnership with the Head of School, Director of Institutional Advancement, and Director of Enrollment and Financial Aid to develop and implement a school-wide communications and marketing strategy. The ideal candidate will be an outstanding creative leader who will direct and strengthen GFA's brand identity in support of the school and its mission. The Director will demonstrate a record of success in creating compelling communications vehicles that includes all web-based and social media content, all marketing materials, the GFA Magazine, the annual report, parent and divisional publications, and various internal communications. Reporting directly to the Director of Institutional Advancement, the Director will serve on the school's senior leadership team and will supervise three professional staff members: Media Manager, Assistant Director of Communications, and Creative Director.
---
Major Functions and Responsibilities
Build, manage and lead an outstanding strategic communications and marketing program that incorporates all traditional and digital channels and media;
Establish a formal communications planning process that reflects the needs of the school, the Advancement Office, Office of Admission, and other key partners in order to create a strong yet flexible communications program with key themes and messages that can be adapted to suit various constituencies;
Tell GFA's story through compelling written and visual content across digital platforms and publications;
Promote the school's reputation, enhance its brand, and effectively disperse key information to all stakeholders;
Serve as editor-in-chief of the GFA Magazine;
Assess the website and ensure that it is innovative, user-friendly, and effective;
Set clear direction and priorities for a staff of three professionals and manage and schedule the workflow of the communications and marketing team through the assignment of news stories, event coverage, and blog/social media posts;
Develop and manage budgets for communications and marketing activities;
Evaluate the effectiveness and success of communications vehicles and marketing initiatives with different audiences on an ongoing basis;
Develop an extensive communications strategy for the forthcoming comprehensive campaign through collaboration with the Advancement team and other key stakeholders;
Partner with division and department heads to provide specific appropriate levels of support, service, and training to those individuals and teams.
---
Desired Qualifications and Characteristics
Strong candidates will possess and exhibit the following experience and qualifications:
Seven to ten years of experience developing and implementing a successful and comprehensive communications program across an enterprise with multiple constituencies and wide variety of audiences, ideally in an independent school or higher education setting;
Evidence of strong writing, editing, interpersonal, and presentation skills;
Solid understanding of the advantages and drawbacks of traditional and emerging media, from print magazines to social media, in conveying information and content in ways that engage and excite constituents;
Experience in evaluating the strengths of existing branding and communications and identifying opportunities for improvement;
Keen creative and design sensibilities with a strong understanding of the communications process from concept through production and fulfillment;
Excellent judgment and creative problem solving skills;
Proven ability to mentor, develop, support, and supervise staff, to build relationships and seek alignment across the school, and to manage and work within budgets;
Broad experience in strategic marketing, communications planning, media relations, and crisis management as well as successful experience dealing with local media;
Desire and motivation to embrace and promote GFA's culture of belonging and diversity in an environment of inclusivity and program excellence:
Exceptionally strong digital and computer skills with experience in website management, video/photography production, and networked information systems;
Strong personal integrity and work ethic, as well as a sense of humor and perspective;
Availability for occasional weekend and evening events;
Bachelor's degree required.
---
Bob Whelan, Head of School
Before joining Greens Farms Academy in 2018, Bob Whelan was Head of School for five years at Lake Forest Country Day School, a PreK-8 school serving more than 400 students in the suburbs of Chicago. Before his headship in Lake Forest, Bob was the Associate Head of School at Rippowam Cisqua School in Bedford, New York, where he ran the Advancement Office, taught ethics and writing, and coached basketball. Bob began his career in education at Brown University, where he served as the Director of the Parents Leadership Program after transitioning to education from several years as a touring singer/songwriter recording for Atlantic Records and EMI publishing. Bob earned his B.A. from Brown University as a double major in American Civilization and Philosophy, and his M.Ed. in Education, Policy, and Management from Harvard University.
---
Philosophy
Partners: Our students collaborate with teachers to develop their voices to effect change, to become lifelong learners who take ownership of their educations, and to have an instinct for self-reflection that builds character and drives improvement.
Innovative: Building on a demanding curriculum, our faculty seeks innovative and effective methods to help students cultivate the skills and habits of mind necessary to excel.
Inclusive: GFA strives to create a diverse community that values the identities, perspectives, and experiences of all its members.
Globally Minded: We empower our students to discover their place in the world and help them to become globally competent citizens engaged in building a sustainable future.
---
A Culture of Philanthropy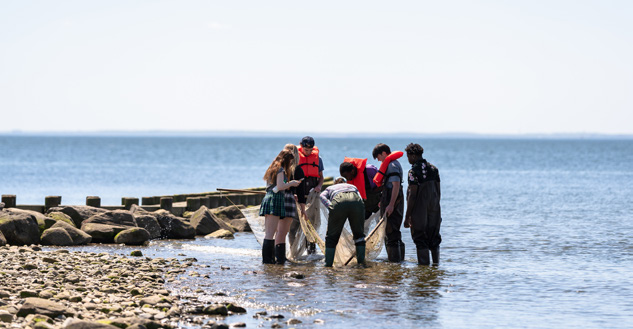 Throughout GFA's history, the support of parents, alumni, and friends has been a powerful and often a determinative force. It has propelled the school's progress. At critical junctures, school leaders have persuaded benefactors to invest in the realization of dreams. This fusion of intellect, will, and resources can be seen again and again.
Guided by its Strategic Direction: Lives of Purpose as it prepares for its centennial in 2025, the school is on the cusp of another important and critical juncture — a comprehensive campaign that will help position the school for its second century. As a school with an endowment of $53 million — and ambitious plans for the future — GFA depends on the generosity of the school community to move forward. Aspirations do not become achievements because we wish them so. The bridge between aspiration and achievement is spanned by funding. Philanthropy provides the pathway between what is and what can be.
The forthcoming campaign will build on GFA's strengths and will provide both the resources and momentum to move forward on the school's strategic initiatives. As we teach the value of purposeful and lifelong service to our students, GFA seeks to pursue its mission at an even higher level and to establish itself as one of the truly outstanding independent schools in the nation.
---
Benefits
Greens Farms Academy offers a dynamic and supportive work environment, competitive salaries, and a generous benefits package including a retirement plan with employer-matching, a full array of insurance plans, and generous support for professional growth. Greens Farms Academy is an Equal Opportunity Employer and seeks candidates who will add to the diversity of the school community.
---
Contact
To explore this superb career opportunity on a highly confidential basis, please send a resume, letter of interest (addressing why interested in GFA), articulating the strengths of your work experiences, skill sets, and career aspirations, and information for four references (including contact information, which will only be contacted if mutual interest is determined) to:
Doug Cooney, Executive Search Consultant, DEERFIELD ASSOCIATES Executive Search, Inc.
572 Washington Street, Suite 15, Wellesley, MA 02482 Telephone: 781-237-2800.
Email: jobs@deerfieldassociates.com