The Gunnery
Chief Financial Officer
Deerfield Associates Executive Search, Inc. has been retained by The Gunnery, located in Washington, Connecticut, to conduct a national search for a Chief Financial Officer.
---
The Gunnery
Founded in 1850, The Gunnery is a coeducational college preparatory boarding and day school for students in grades nine through twelve and postgraduate. The school's mission stresses the importance of citizenship and social responsibility in a nurturing and cohesive community dedicated to fostering lifelong learning. Located on the historic Washington Green in northwest Connecticut's picturesque Litchfield County, the school takes pride in being part of a community that honors both tradition and innovation, and continues to espouse the core character-building values of its founder, Frederick W. Gunn. For more information, please visit www.gunnery.org.
Gunn established a school based on the belief that strength of character was the goal of education. Today, The Gunnery rests on the four cornerstones of character: scholarship, integrity, respect and responsibility. Character is forged in a cohesive, diverse community informed by a challenging college preparatory curriculum, a broad range of athletic, artistic and social activities, and a faculty of scholars and committed educators dedicated to the intellectual and ethical development of every student. A Gunnery graduate is a broadly educated, socially responsible citizen with tested beliefs, strength of character and the courage to act on convictions.
The Gunnery currently enrolls 290 students from 19 states and 22 countries. The student body is 74 percent boarding, 26 percent day; 55 percent male, 45 percent female. Approximately 60 percent of the 55 faculty hold advanced degrees, and the student/teacher ratio is 5:1. The school is supported by a staff of approximately 75 people, making total employment 122.
The school's endowment currently stands at $25 million and the annual operating budget is $21 million. There are approximately 4,500 alumni. With a 150-acre campus (70 acres of which are undeveloped woods) encompassing 31 buildings and 10 dormitories, The Gunnery is home to 36 interscholastic teams across 15 sports as well as 21 campus clubs and organizations.

---
The Position
The Gunnery seeks a strategically-oriented and experienced financial and business leader to fill the key position of Chief Financial Officer.  This opportunity is available in June 2018. The CFO will work closely with the Head of School and the Associate Head of School in support of the school's mission and strategic plan. The CFO is responsible for the organization, management and implementation of comprehensive business, financial, and investment initiatives for the school.  The new CFO will be a key member of the senior leadership team ("Core Council") that oversees the day-to-day operation of the school as well as the "big picture" issues and ambitious plans that outline the school's future.
The ideal candidate for this high-profile position is a strategic thinker who has exceptional leadership and critical thinking skills. Our goal is to recruit a seasoned professional who will build on the significant accomplishments of the outgoing CFO (who is retiring in June 2018) and determine what policies, technologies and programs need to be adapted to respond to the needs of the school and its strategic priorities.  The candidate will be proficient with accounting systems (Blackbaud is a plus) and in effective data management and analysis to support innovation and efficiency across the organization.  Demonstrated leadership in implementing change, fostering a high level of teamwork and customer service while embracing technological advancement is required.
Responsibilities include management and strategic leadership of the Business Office to ensure that appropriate financial controls are utilized effectively.  The CFO will oversee staff in the areas of finance, facilities and security, budgeting and planning, purchasing, technology, endowment, risk management, legal, housekeeping, human resources, summer programs, food service, health center, school store and school bank, and related interactions with parents, faculty, staff, and administration.
Reporting directly to the Head of School, the CFO will manage a team of ten direct reports and oversee a total staff of 34 professionals and support staff, plus additional consulting staff.  The position requires interaction and collaboration with the Head of School, faculty, the school's leadership team, students, staff, parents, the Board of Trustees, and residents and officials of the Town of Washington. The CFO works closely with the Head of School, the Board of Trustees, the Director of Alumni and Development, the Director of Admission, and external consultants in overseeing the investment of the school's endowment funds.  The CFO supervises the Director of Information Technology, primarily focusing on finances and campus facilities.  The CFO also initiates and manages all contracts for capital projects, and participates actively in the design and construction of new or renovated facilities.
The school is in the midst of a fundraising and design process for a 32,000-square-foot Arts and Community Center and major improvements to campus at an estimated cost of $22 million.  The current goal is for construction to begin in June 2018 and for the new building to open in the winter of 2019.  In addition to quickly coming to know the school and the community well, the new CFO will need to be able to assume management of this project in a manner that does not delay its timeline. (The successful fundraising for this building will likely be the cornerstone of a larger fundraising campaign.)
It is important that the new CFO be an excellent administrator who excels as a thoughtful and conservative manager of the school's resources. The candidate must understand the public nature of the role given the small size of the town and the extent of shared resources. The individual we seek will excel as a diplomat, both internally and externally.
---
Responsibilities
Strategic Financial Leadership
Work with the Head of School, the faculty, the Board of Trustees and senior administrators to provide strategic direction and management of an educational environment that serves both boarding and day students, and is the home of more than 45 faculty members and their families.
Work with the Treasurer and the Finance Committee of the Board of Trustees in a supportive role and to arrange meetings, produce agendas, provide reports, etc.
Oversee the investment professionals who manage the school's endowment assets and serve as liaison to the Head of School and the Board of Trustees for the Investment Committee.
Manage and direct the annual operating budget of $21 million. Plan and prepare forecasts of the financial condition of the school. Report to the Head of School, Board of Trustees, and Finance Committee on the results of the present and future operations of the school. Serve as liaison to The Gunnery Board of Trustees for the Audit & Risk and Finance Committees.
Establish an effective financial modeling system for strategic planning that is both progressive and user-friendly.
Work with the Director of Financial Aid on overseeing the allocation of aid to meet or exceed budget goals.
Work with the Director of Admissions on how best to achieve enrollment goals.
Initiate/facilitate the development of metrics to assess performance in critical areas and make data-informed decisions.
Actively participate in significant ways in strategic planning, campus master planning and capital campaign processes.
Legal and Regulatory
Manage all legal matters and work closely with the school's attorneys.
Operations and Facilities
Oversee the physical plant, grounds and construction functions. Lead Director of Buildings and Grounds to plan and direct all upkeep, replacement and renewal of the physical plant. Oversee Project Manager for all major projects. Serve as liaison to the Board of Trustees for the Buildings and Grounds Committee.
Oversee the Director of Information Technology in efforts to provide optimal technological solutions and support throughout the school.
Manage and direct the day-to-day operation of the Business Office including payroll, accounts receivable, accounts payable, accounting functions, school store and support staff.
Oversee the risk management function and purchase property, casualty, liability and workers' compensation insurance.
Manage the expenses of the school. Secure the highest level of quality products and services for the school's business functions, including measuring cost effectiveness. Oversee school operations, effectively determining whether functions should be serviced internally or outsourced.
Oversee the Director of Safety and Security (who also serves as Project Manager), who is responsible for running the school's Enterprise Risk Management (ERM) team and the Emergency Response Team (ERT). Participate in these groups.
Human Resources
Provide leadership to faculty and staff regarding employee hiring, terminations and oversight issues. Develop employee policies and procedures. Oversee and direct implementation and administration of employee benefits programs such as health insurance, disability insurance, life insurance, workers' compensation, employee assistance, retirement and other related plans.
Customer Service
Provide for the faculty and staff of the school a user-friendly Business Office.
Provide the financial information and planning that builds trust among the faculty, administration, staff, students, alumni, trustees and parents.
Work with current parents on financial information, i.e., health insurance, tuition matters, and incidental expenses.
Work closely with the school community to ensure positive and favorable community relations with the Town of Washington, neighbors and property owners.
---
The Qualifications
The ideal candidate for CFO should possess:
A strong background in financial systems, modeling and forecasting; investment and risk management; support services administration; business services; human resources and benefit administration, and facilities management.
Effective financial and business management skills, and the ability to earn the respect and attention of faculty, administration, staff, students and the Board of Trustees.
A high level of integrity and an extraordinary work ethic.
Ability to effectively interface with all levels of the school community – the administration, staff and faculty; the Board of Trustees; alumni and friends of the school; current parents; boarding and day students, and the town of Washington.
An open and collaborative management style characteristic of a team player who can provide superior customer service.
Ability to embrace and implement change while fostering a high level of teamwork, a customer service orientation, and technological advancement.
Excellent communication skills, both oral and written.
Knowledge of and experience in setting up effective financial controls.
Effective negotiation skills in developing contracts with external vendors.
A strong commitment to education and an interest in being a positive role-model.
Interest in industry associations (ABOPS, NAIS, TABS, etc.) and "best practices" and the ability to keep current, and bring about appropriate change in the spirit of total quality improvement.
Ability and interest in effectively leading, developing and motivating staff; ability to recruit and hire new staff. Creativity, a positive outlook, proactive orientation and a sense of humor are helpful.
Experience in an independent secondary school, college or university setting strongly preferred. Individuals with strong financial and leadership skills in a related field are encouraged to explore this opportunity.
Ten to 15 years of work experience in a financial and business leadership position.
Bachelor's degree is required, M.B.A. and/or a master's degree in a related field, or a CPA license strongly preferred.
---
Position Skills
Business Management
Direct and manage all Business Office support staff operations functions including: Associate Business Manager – Finance/Operations; Associate Business Manager – Finance/Benefits, Superintendent Buildings and Grounds, Housekeeping, Health Center and Dietary.
Serve as primary staff liaison with Board of Trustees' Finance and Audit Committee, Buildings & Grounds Committee.
Serve as school liaison with all litigation proceedings.
Fiscal Management
Develop, present and manage all operating and capital budgets in conformance with all FASB guidelines.
Develop and present to Board of Trustees interactive financial planning models for strategic planning and fiscal oversight.
Negotiate all school-issued debt instruments for capital financing.
Serve as co-school liaison with all endowment fund managers.
Construction Management
Serve as school liaison for all major capital projects.
Represent the school in all negotiations with architects, project managers, and general contractors.
Human Resource Management
Oversee and manage the school's staff employees.
Work on all related Human Resources programs and policies.
Manage the staff employee hiring, training and assessment process.
Develop and implement staff employee handbooks.
Interpret and apply federal and state employee law.
Negotiate and manage all employee benefit programs.

---
A Message from The Gunnery's Head of School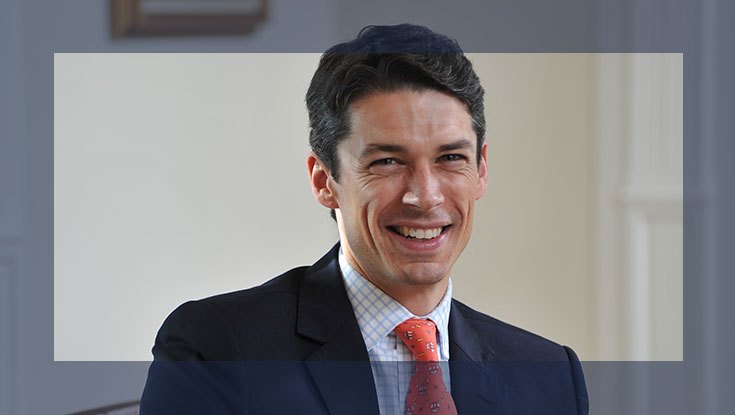 Peter W.E. Becker
BA, University of Virginia
MA, Yale University
Conversation with The Head of School
Dear Prospective Students and Families,
It is my great honor to welcome you to The Gunnery.  I hope that you experience from our website what you will certainly understand if and when you visit in person: a vibrant, closely-knit community of scholars, athletes, and artists situated in the gorgeous town of Washington, Connecticut. We hew closely to the vision and example of our founder, Frederick Gunn, because he was a man of courage, wisdom, and creativity who struck the fine balance between being both progressive and traditional in his worldview. The world today needs leaders like Gunn and we endeavor to reflect his philosophy and life, both in our faculty and in our students. To learn more about Gunn, please see our School History on our website at www.gunnery.org.
The Gunnery offers many things only possible in a small school: the chance to know and be known by every fellow student; the individualized care for students only possible when every faculty member knows every student by name; multiple early opportunities for leadership and discovery. If you enjoy being known well by your friends and your teachers, if you enjoy developing friendships with peers from around the country and the world, and if you enjoy learning, playing, and creating in an environment in which it is safe to try, fail, and try again, then you'll love our school. We believe that real learning happens best when put into action, whether the topic is the principles of physics, the violin, a zone defense, or leadership. At The Gunnery, you will have more opportunities than at larger schools to put theory into practice and, as a result, will learn exponentially. Don't just take my word for it – see what our students, parents and alumni have to say in our Spotlight movie (requires Adobe Flash Player), also viewable at www.gunnery.org.
The Gunnery's academic and extra-curricular offerings, however, are those of a much larger school. You can learn all about those through the pages of this site but this year that is even more true as we launch an online learning initiative. Through our collaboration with the Virtual High School Collaborative, Gunnery students may now choose from an even broader array of courses. Our students compete at the highest levels in academics, athletics, and the arts as evidenced this past year by the innovation of students in Mr. Fisher's Robotics class, the many successes of our spring teams and the artistic talent recognized at the annual Kent Art Association show.
As you visit schools, I encourage you to "go with your gut." You will spend anywhere from one to four years living, working, and playing at the school you choose. Your school will be your home away from home and many of your friendships will last a lifetime. The most important thing to consider is the people with whom you will spend those years–the faculty and your fellow students–and the overall feel of campus life. The best metric of a school's success is the people it attracts and the opportunities it affords them. Will you have the chance to put learning into action in "live" situations and receive the meaningful feedback, from people you trust, needed to grow in knowledge, insight, and wisdom? We believe that The Gunnery is unique in its ability to offer just that.
Finally, I'd be remiss if I didn't say more about the wonderful town of Washington. Nestled in the Shepaug River Valley, our campus is a ten minute walk and five minute drive from Steep Rock. Frederick Gunn cared deeply about the woods, rocks, and rivers surrounding him and that tradition continues today. We are deeply blessed to live and learn in a place shaped so distinctly and beautifully by our natural environment.
Come visit and see for yourself. I promise you will be delighted by what you learn.
Sincerely yours,
Peter W.E. Becker
Head of School

---

The Gunnery's Benefits
The Gunnery offers a dynamic and supportive work environment, competitive salaries and a generous benefits package including a retirement plan, paid vacations, and medical insurance.   
The Gunnery is an Equal Opportunity Employer. Except in cases of a bona fide occupational qualification or need, or except as otherwise permitted or required by law, The Gunnery does not discriminate against applicants for employment on the basis of race, color, religious creed, age, sex, marital status, pregnancy, sexual orientation, national origin, ancestry, present or past history of mental disorder, intellectual disability, learning disability or physical disability, gender identity or expression, genetic information, or any other protected class status under applicable law with respect to hiring, compensation, promotion, discharge from employment or other terms and conditions of employment. Minorities, women and Veterans of the Uniformed Services are encouraged to submit applications to The Gunnery.  Position announcements are intended to describe the general nature and level of work performed by employees assigned to the job title and the education and skills required. Descriptions are not intended to be a complete list of all responsibilities, duties and skills that are required or may be required in the future.
BACKGROUND SCREENING: The Gunnery conducts background checks on all job candidates upon acceptance of a contingent offer, which includes using a third-party administrator to conduct the checks. Background checks will be performed in compliance with the Fair Credit Reporting Act.
---
Contact Information
To explore this superb career opportunity on a highly confidential basis please send a letter of interest and a resume (both as Microsoft Word documents) to:
Doug Cooney, Executive Search Consultant, Deerfield Associates Executive Search, Inc.
572 Washington Street, Suite 15, Wellesley, MA 02482
Telephone: 781.237.2800
Email
---