The Taft School
Chief Financial Officer/Business Manager
Deerfield Associates Executive Search, Inc. has been retained by The Taft School to conduct a national search for a Chief Financial Officer/Business Manager.
---
The CFO/Business Manager
The Taft School is seeking an experienced, energetic, collaborative professional for the position of CFO/Business Manager, reporting directly to the Headmaster. The successful candidate will manage a team of professionals and support staff (including facilities) of over one hundred and twenty (120) and join a dynamic, experienced and collegial team.  The position requires interaction and teamwork with the Headmaster, senior administrators, faculty members, staff, vendors and the Board of Trustees. This opportunity is available in January 2019.
---
The Taft School: Background
The Taft School is a private, coeducational grade 9-12 day and boarding school located in Watertown, CT.  Founded in Pelham Manor, NY in 1890 by Horace Dutton Taft, the brother of the president, the school was relocated from a single residential home to a former hotel in Watertown in 1893. Over the ensuing century, the school has grown in every way: from a handful of students and faculty in a one building campus to an internationally recognized school set on a beautiful 220 acre campus. Today, Taft is one of the nation's top middle-sized boarding schools.  The admissions process is a highly selective one. In 2017 there were 1,677 applicants for 187 places, and the diverse student body is comprised of students from 32 states and 42 nations.  Currently the school has 492 boarders and 100 day students. The school has approximately 250 employees, of which 127 are faculty. The alumni number 9,500 and in 2017 42% supported the Annual Fund. In 2017, the Parents' Fund had 92% participation and raised over $4.5 million, the highest among peer schools. The campus, valued at $190 million, is comprised of relatively older collegiate gothic style buildings built approximately ninety years ago as well as two dormitories, a hockey rink, and a state of the art science and math center, all of which were completed in the last twenty five years. To learn more about The Taft School visit www.taftschool.org

---
The Taft School: Background
Taft offers a wide array of academic and extracurricular offerings. Its academic program is extremely rigorous, and Advanced Placement courses are offered in all disciplines.  In 2017, 179 students took 452 total AP exams, with an overall average of 4.02.  The extracurricular program is broad and deep:  the school has 64 interscholastic athletic teams; the arts program involves dance, theatre, music, and the visual arts; there is a strong community service program; and each year many student clubs are active.  Taft's college placement record is impressive. Each year students matriculate to some of the nation's most prestigious colleges.  In 2017, 27% of the senior class was admitted to an Ivy League school or "Little Three" (Amherst, Wesleyan, Williams).
Although Taft is an extraordinarily demanding academic institution, it prides itself on its warm and supportive atmosphere.  Students and teachers enjoy a unique closeness, in part because the physical layout of the campus—a large Main Building, interconnecting walkways, two quadrangles, and a centrally located pond—ensures regular contact among all members of the community. Faculty, students, families and alumni consistently share a sense that the spirit of Taft is uniquely friendly, familial and happy.
---
The School's Leadership
William R. MacMullen (Taft, 1978; Yale, B.A. 1982; Middlebury, M.A. 1989) was appointed in 2001 as only the fifth Headmaster in the history of the school.  The Headmaster and the members of the Board of Trustees are committed to continuing to enhance the School's strength of the academic curriculum, endowment and physical plant.
---
Taft's Mission
Taft's mission has always been the education of the whole student.  For over a century, the school has sought to create an education at once intellectual, moral, physical, and spiritual.  In 2003, the faculty articulated precisely what this historic mission means in contemporary terms by identifying thirteen skills and habits of mind it expected its graduates to have exhibited. (See Additional Materials.) Importantly, the faculty believe strongly in seizing the "teaching moment" wherever it occurs; at Taft, education takes place in the classroom, office, dormitory, hallways, athletic fields, etc.  With the motto "Not to be Served, but to Serve," Taft seeks to graduate thoughtful and moral young men and women who will be able to thrive and lead in the global community. An adherence to this mission—through its 128 year history and its five headmasters—marks Taft unique and explains its reputation as a first rate school.
---
Financial Overview
As a result of disciplined fiscal management, prudent endowment oversight, and a successful capital campaign which concluded in 2017, today Taft is on sound financial footing.  The endowment stands at approximately $255 million, and the school consistently balances its budget.  Taft's major revenue source is tuition, and approximately 65% of the annual operating budget ($32 million) comes from that source.  The school gives out financial aid to 35% of its students.  Taft's cost per student and endowment per student (net of debt) are low relative to its peer schools.  Taft's endowment spending rate in 2017 based on a trailing 13-quarter average was 4.1%. The school's annual fund for 2017 amounted to $4.5 million, and capital gifts of $7.0 million were received.  Taft has earned an Aa3 rating from Moody's Investor Services and has nearly $40 million of outstanding municipal bonds issued to various capital projects on campus.
Taft continues to maintain its status as one of the nation's most competitive schools and has done so despite not having the resources of its peer schools.  The combination of disciplined spending, capable endowment management, strong annual fund support, and a low-cost structure has positioned the school well.  That said, increasing the endowment is seen as a high priority if the school is to remain in the position of strength it currently holds. A recently completed 10-year accreditation affirmed the school's many strengths and also identified a number of initiatives and areas that the school needed to allocate additional resources as it seeks to retain its status as one of the nation's great schools.
---
The CFO/Business Manager Position
Taft seeks a CFO/Business Manager who will oversee the school's finances and business affairs and is a financial and business leader with strong inter-personal skills, professional and personal integrity, and an effective leadership style.
---
Qualifications
Four qualities are seen as critical:
The CFO/Business Manager must have extremely strong finance, accounting and business skills and a proven track record of success;
The CFO/Business Manager must have the interpersonal skills and leadership style which will allow him or her to manage a team, articulate a cogent philosophy, and inspire co-workers;
The CFO/Business Manager must already understand or show the ability to understand the unique culture of a nationally recognized private boarding school;
The CFO/Business Manager must have excellent judgment and the ability to approach issues from all perspectives and with an understanding of the interests of all stakeholders.
Work experience in an independent secondary school or college setting is preferred, though individuals with other backgrounds but with the skills and experience described above are encouraged to apply.
More specifically, Taft seeks the following experiences, skills and personal qualities in the new CFO/Business Manager:
A high level of integrity in all matters.
At least ten years work experience in a financial or business environment background.
A Bachelor of Arts degree is required. An advanced degree in a relevant area (e.g. MBA) is strongly preferred. A CPA is preferred though not required.
The ability to work successfully with members of the community, including faculty, staff and administrative leaders, as well as the Board of Trustees, alumni, parents, and local officials.
The ability to serve as a critical business thinker, capable of providing positive and proactive solutions to business issues.
A track record of effective leadership.
Effective financial and business management skills.
Strong communication skills, both in print and in speech.
The ability to organize, set priorities, and multi-task.
An extraordinary work ethic and the ability to meet unexpected challenges.
Familiarity with financial and business issues attendant to a large physical plant.
Understanding of compensation, benefits, and employee and labor relations.
Proven financial modeling and forecasting skills.
An interest in education in general and the school's mission specifically.
Strong negotiation skills in establishing contracts with outside vendors.
Good listening skills and the ability to empathize.
Humor, energy, creativity and a positive attitude.
The ability to identify talent, develop employees professionally, and motivate an office of approximately ten people and a staff of one hundred and twenty (120).
Knowledge of and the ability to implement internal controls.
An awareness of trends and issues challenging higher education and the capacity to relate them to the school's situation.
An understanding of technology and the willingness to embrace technological change to achieve more efficient and cost effective results
---
Responsibilities
The Taft School CFO/Business Manager has many responsibilities and serves in one of the most important and complex roles at the school. The CFO/Business Manager is responsible for the oversight and management of the finance, facilities, human resources, campus safety, food service and auxiliary functions at the school and includes the following:
Budget development
Financial and business management of the day-to-day operations including responsibility for all fiscal controls and the achievement of the annual budgets established by the Finance and Investment Committee
Financial planning and forecasting
Investment reporting for the endowment and other investments
Coordination of endowment management with external investment offices
Reporting to the Finance and Investment and Audit and Risk Management Committees
Facilities and operations
Campus Safety
Legal functions
Human Resources for all employees
Benefits administration in conjunction with third party providers
Risk management
Auxiliary operations, including mailroom, bookstore, ice rinks and summer programs
Reporting and assisting the Campus Planning Committee related to all project related activities
Trustee communication and reporting
Annual coordination with Standard and Poor's and Moody's credit rating agencies
Coordination of banking, auditing, and other professional services
Cash management of operating and plant reserves
Food service management
Oversight of all capital expenditure projects including major capital projects and related public bond offerings
Communicating and effectively working with senior administration
Interacting with professional counterparts at peer schools and/or associations
Managing town/school relations with fire/police/town manager.
---
Pam & William R. MacMullen '78
Headmaster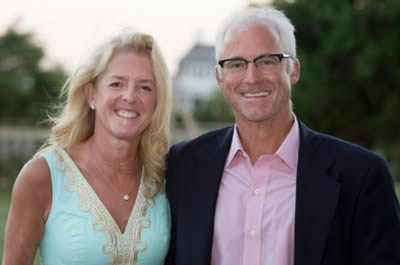 In February 2001, the Board of Trustees appointed its first Taft-educated headmaster: William R. MacMullen, Class of 1978. MacMullen, only Taft's fifth headmaster in its more than 125-year history, earned his bachelor's degree from Yale and his master's from Middlebury. He returned to Taft in 1983 to teach English, and at the time of his appointment as headmaster had served as dean of faculty, dean of academic affairs, a college counselor, a class dean and boys' varsity soccer coach. His wife, Pam, is also an English teacher, dean, and coach at Taft. "Mr. and Mrs. Mac," as students affectionately know them, have two sons who are both Taft alumni.
Under his leadership, the school has added several historic Watertown buildings to campus, including Walker Hall, Woodward Chapel, Hillman House (59 North Street), and Baldwin School. Major renovation projects have dotted the campus, including the new Moorhead Academic Center, the Martin Health Center, Bingham Auditorium, and the installation of an artificial turf athletic field. Perhaps the most significant change, however, has been a renovation of Horace Dutton Taft Hall that included the expansion of the dining halls and restoration of the founder's residence into the Moorhead Wing. Designed by the Gund Partnership of Cambridge, Massachusetts, the wing includes Laube, Prentice, and East dining halls, as well as the Mortara Academic Wing.
Headmaster MacMullen also included the creation of the Global Studies Department, the expansion of the office of Multicultural Affairs and Education, a steady increase in financial aid, as well as increased diversity in both our faculty and student body.
---
The School's Benefits
The CFO/Business Manager position at Taft offers an exciting and supportive work environment, a competitive salary and benefit package which includes medical and dental plans, a pension plan, tuition remission, housing or a housing stipend and four weeks of paid vacation. Taft School is an Equal Opportunity Employer.
---
Images of The Taft School
---
Contact Information
To explore this superb career opportunity on a highly confidential basis please send a letter of interest and a resume (both as Microsoft Word documents) to:
Doug Cooney, Executive Search Consultant, Deerfield Associates Executive Search, Inc.
572 Washington Street, Suite 15, Wellesley, MA 02482
Telephone: 781.237.2800
Email
---