Fairfield University
Vice President of Strategic Enrollment Management
Deerfield Associates Executive Search, Inc. is conducting a national search on behalf of Fairfield University, located in Fairfield, Connecticut, for a Vice President of Strategic Enrollment Management.
---
Fairfield University
Fairfield University is a comprehensive Jesuit institution that prepares students for leadership and service in a constantly changing world. Fairfield University was established by the Jesuits in 1942, in the town of Fairfield, Connecticut. The third youngest of the 28 Jesuit institutions of higher learning in this country, the University's Jesuit and Catholic roots nevertheless reach back nearly 500 years–to the life and teachings of Saint Ignatius Loyola, founder of the Society of Jesus. Since its inception, Fairfield has grown from a liberal arts college, with an inaugural class of 300 undergraduate male students, into a coeducational university of 5,000 students, both undergraduate and graduate. Today, Fairfield is a highly competitive university, consistently recognized as one of the top institutions in the Northeast.
Only 50 miles from New York City, Fairfield University is situated on a beautiful, 210-acre campus with picturesque views of the Long Island Sound. Voted by Money Magazine as one of the "best places to live" in the U.S., the town of Fairfield is set along the Gold Coast of Connecticut where breezy beaches, a thriving arts community, and premier restaurants abound. Family-oriented Fairfield also has top notch, high performing public schools with rich academic programs. Fairfield is easily accessible to I-95 and the Merritt Parkway and has three train stations on the Metro North line that extends from New Haven to New York City's Grand Central Terminal.
As Catholic, the University carries forward a rigorous intellectual tradition in its teaching and research; as Jesuit, the University takes great pride in the Ignatian educational model that prizes cura personalis – (the development of the whole person) and magis pursuit of excellence as the foundation of just and vibrant communities. The University's mission statement can be found here. As a comprehensive master's level institution, Fairfield is committed to a collegiate experience for both its full-time, traditionally-aged undergraduates and its growing population of non-traditional students based on a strong, integrated liberal arts curriculum in the setting of a beautiful suburban campus. As a comprehensive university, Fairfield is enriched, both at the undergraduate and graduate levels, with professional schools dedicated to academic rigor, ethical practice, social justice, and service to the wider community, especially the poor and marginalized. The University strives to develop reflective, discerning, highly educated citizens who are deeply invested in the common good.
On July 1st, 2017 Mark R. Nemec, PhD became the 9th President of Fairfield University. Additionally, Dr. Nemec joined the Politics Department as a professor within the College of Arts and Sciences.
For more background on Fairfield University please visit: https://www.fairfield.edu/
Link to the video Why Fairfield: https://www.fairfield.edu/undergraduate/why-fairfield/
---
The Opportunity
Fairfield University seeks a dynamic, creative, highly motivated, entrepreneurial enrollment management professional to assume the position of Vice President of Strategic Enrollment Management. This opportunity is available immediately and will be filled following a comprehensive national search for the right talent to lead Fairfield admissions into the future.
Reporting to the Executive Vice President and serving as a key member of the Senior Leadership Team, the Vice President of Strategic Enrollment Management (VPSEM) provides the strategic leadership and operational management to develop and implement a comprehensive enrollment management program that focuses on sustained positive results in recruitment, enrollment and providing financial support to students. The VPSEM oversees and provides leadership and management of the Undergraduate, Graduate and Continued and Professional Studies Admission Departments, Financial Aid, and manages recruitment, training, supervision and professional development and evaluation of division staff.
The VPSEM works closely with University constituencies to develop comprehensive enrollment management plans. Specifically, the VPSEM collaborates closely with the Vice President of Marketing and Communications and the respective Deans to implement and execute an integrated marketing and recruitment plan that supports the achievement of enrollment goals. The VPSEM is expected to demonstrate both the ability and desire to build internal relationships that will support and enhance the University's outreach efforts, in additional to representing the University to external communities.
Fairfield University seeks a high-profile admission professional to be responsible for guiding and leading the strategic and tactical efforts of the Undergraduate, Graduate and Continued and Professional Studies, Admissions as well as Financial Aid. The new hire will direct all aspects of enrollment planning and management. Responsible for coordinating enrollment research, data analysis and related programmatic recommendations. Oversees student retention for undergraduate and graduate students at the University. Collaborates with the various deans to determine enrollment goals and strategies for traditional and adult programs. Manages the operational budget for the offices and approves expenditures. Serves on the executive committee of the University Strategic Marketing Committee.
This is an excellent opportunity for the right admission professional who wants to have an impact on a most important mission. The Vice President of Strategic Enrollment Management is responsible for overseeing a division, which has a professional, and support staff of 42 FTE, and an annual operating budget of approximately $4.7million.
A Bachelor's degree is required and a Master's degree in a related field or equivalent required. Ten years of progressive experience in college and university admission or equivalent combination of training and experience. Strong leadership and team building skills are essential. Exceptional communication and interpersonal skills. Knowledge of merit and need-based financial aid policies and regulations. Experience with predictive analytics and/or analytical tools for identifying the best student prospects in terms of affinity, retention, diversity and academic success.
Essential requirements of the ideal candidate also include significant budget, personnel and staff management experience. The new hire will mentor, inspire and motivate colleagues across the University, including those that report directly and indirectly within the Enrollment Management Division. Excellent interpersonal communication and team building skills are necessary. The ability to understand and enthusiastically articulate Fairfield's Jesuit and Catholic mission and the liberal arts' educational philosophy is required. A sense of leadership and an orientation to excellence and continuous improvement are all highly valued.
The President and the Executive Vice President of the university each value a highly respected and accomplished enrollment professional who can excel as an exceptional leader with creative marketing savvy skills, exceptional analytical skills, data-based decision making knowledge and demonstrated enrollment management work experience.
---
Key Competencies
Honesty/Integrity: Adheres to a moral or ethical code and gains the trust of others through fair and responsible behavior.
Strategic Thinking: Understands "big picture" concepts and relevant market and environmental factors. Formulates and implements strategies for the work unit that is in line with the overall strategy of the organization.
Managing Change: Understands the quantitative and qualitative aspects of change and how to organize people and processes to meet the desired end state while addressing resources constraints and resistance to change
Results Orientation: Pushes self and others to achieve high-level results through good planning, performance monitoring and determination.
Continuous Improvement: Seeks opportunities to improve organizational performance and customer value through the elimination of waste, reduction of costs, improvements in quality and/or process reengineering.
Team Player: Builds cooperative partnerships among peers and stakeholders. Willing to adapt and compromise a position to gain a better, overall result for the team.
Risk Taking: Willing to sustain a setback or loss in order to gain an advantage or a significant outcome.
---
Position Responsibilities
Directs all aspects of enrollment planning and management.
setting application and enrollment goals for all programs,
meeting enrollment targets for revenue development,
developing strategies in response to the University's general enrollment targets and those for special populations including multicultural recruitment, athletic recruitment and international recruitment,
overseeing the planning for campus visits and open houses,
evaluating the effectiveness of the financial aid program in relation to student recruitment,
increasing University awareness of the importance of data-based decision making and institutional marketing,
utilizing market research to facilitate programmatic decision making,
developing strategies for the use of publications, mailings, electronic communication and messaging related to admission,
coordinating marketing efforts with the Public Relations Department,
Use internal and external resources to perform analytical modeling to recruit the optimal mix of students and drive improvements in enrollment metrics,
reporting all initiatives and results to senior administration.
Oversees the offices of Undergraduate Admission, Graduate, and Continued and Professional Studies, and Financial Aid.
approving all initiatives to support recruitment programs and services, coordinating the student recruitment efforts of the offices to the best advantage, providing supervision to the directors and work of each office.
Responsible for coordinating enrollment research, data analysis and related programmatic recommendations.
initiating appropriate enrollment research projects,
assisting in project design and implementation,
analyzing project results and sharing appropriately with deans and other campus constituents to assist in decision making,
recommending new initiatives based on appropriate findings,
analyzing demographic trends to target new areas for development.
Oversees student retention for undergraduate and graduate students at the University.
developing appropriate research methods,
analyzing retention trends for each student population,
developing appropriate interventions to improve student retention and satisfaction,
collaborating with Student Services, the academic deans and other campus constituents to ensure appropriate programming and customer service.
Collaborates with the various deans to determine enrollment goals and strategies for traditional and adult programs.
establishing proactive relationships with the various deans in support of enrollment for their programs,
providing data and comparative information to assist in programmatic decision making,
evaluating recruitment efforts on behalf of the schools and recommending appropriate improvements,
supporting the investigation of new programs and opportunities within the schools,
analyzing and informing the deans of enrollment trends.
Manages the operational budget for the offices and approves expenditures. This involves:
overseeing departmental spending policies,
recommending to the Academic Vice President the annual budget allocations to each department.
Serves on the executive committee of the University Strategic Marketing Committee.
serving as spokesperson on marketing related issues,
assessing market and positioning opportunities for the University.
Participates in the professional development of the Office of Enrollment Management, promoting an image of efficiency and courtesy throughout the University community consistent with the department's mission,
monitoring developments in Enrollment Management through the attendance at workshops and seminars and in the reading of professional literature,
attending departmental and divisional meetings and informing staff regarding relevant information,
serving as a responsible committee representative as requested.
---
Students
Fairfield enrolls over 4,032 undergraduate students. There are 1,105 graduate students, a quarter of whom are full-time. Some 1,100 Full-time freshmen will enter in Fall 2018. Half of them graduated in the top 20% of their high school class and over 13% are students of color. Current students hail from 25 states, Washington, D.C., Puerto Rico, and 47 from foreign countries. While the majority of Fairfield undergraduates self-identify as Roman Catholic, there is significant religious diversity represented among the student body. Last year, the University awarded 36 Doctor of Nursing Practice degrees, 429 Master's degrees, and 930 Bachelor's degrees.
Fairfield students benefit from the resources and reputation of a school consistently ranked among the top regional universities in the north by U.S. News and World Report. In the past decade, nearly three dozen Fairfield students have been named Fulbright scholars, and the University is among the 12 percent of four-year colleges and universities with membership in Phi Beta Kappa—the second youngest school to receive this honor. Most recently, a Fairfield alumnus was awarded a MacArthur "genius" award for his work as a critical care physician who devised life-saving clinical practices. For 2017-18, Fairfield University awarded more than $70 million in institutional aid. Approximately 88 percent of full-time undergraduate students received some form of financial aid.
Undergraduate students are guaranteed campus housing for all four years and over eighty percent live on campus in residence halls, townhouses, and apartments. While Fairfield has a relatively small number of traditional commuting undergraduate students, the majority of students not living on campus reside in the Town of Fairfield's beach area about two miles from campus. The tradition of Fairfield students living "on the beach" is an important one to students and alumni, faculty, staff and administrators intentionally create opportunities for students to engage in community life that enriches curricular offerings with co-curricular experiences. The residential character of the campus promotes collaboration between academic and student affairs to integrate living and learning for the development of the whole student, including their intellectual, spiritual, cultural and social identities.
Fairfield has an active student government and there are clubs for a wide range of social and intellectual interests. Nearly one-third of students are engaged in volunteer programs, serving in communities in nearby cities and abroad. Over 400 students participate in intercollegiate varsity athletics at the University; over 600 participate in intercollegiate club sports; and more than 1,500 are active in intramural sports. Fairfield varsity teams play at the Division I level and compete as charter members of the Metro Atlantic Athletic Conference, with the exception of men's lacrosse which is a member of the Colonial Athletic Association.
Greater attention has been focused on enhancing graduate student life, including formation of a cross-school Graduate Student Assembly, programs and activities to encourage and facilitate graduate students being more fully engaged at the University, a common orientation program for all graduate students, and year-end awards specific to graduate student achievements. Commencement Exercises have been divided into two ceremonies – one for undergraduates and one for graduate students – to recognize the depth and breadth of the graduate programs and provide a graduate student-centered event for students and their families.
---
Faculty
There are approximately 260 full-time faculty members at Fairfield with over 90% holding the highest degree in their field. In the past few years, while maintaining an emphasis on effective teaching and learning, faculty scholarship has developed at an unprecedented pace. Last year, the faculty published nine books, bringing the total to 58 over a five-year period. In addition, there were over 425 scholarly articles, presentations, and artistic accomplishments. Active in seeking grant support from corporations, foundations and government agencies, the University received $4.3M in funded grants in FY12. Owing to recent hiring successes and anticipated new faculty lines, this trend in increased faculty productivity is expected to continue for the foreseeable future. Fairfield's faculty is composed of teacher/scholars who place great emphasis on student learning, are good university citizens, and genuinely value service, on and off campus.
Fairfield University has a long commitment to the development of progressive and innovative pedagogy, with each of its five schools continuously exploring and fostering more efficient and effective teaching methods, learning outcomes, and the role of online and blended courses. The Center for Academic Excellence provides a central place on campus dedicated to supporting the development of the best in new teaching methodologies, the expansion of student-faculty research opportunities, the ongoing support for continuous reflection on teaching, and the scholarship of teaching and learning.
Through a series of committees on which faculty from across the various schools and disciplines work with University administrators, faculty have voice in almost every aspect of the institution. Fairfield's faculty takes these responsibilities seriously, with most participating in governance at the department, school, and/or University level. The Provost and Senior Vice President for Academic Affairs sits ex officio on a number of faculty committees, including the Academic Council, Research Committee, Undergraduate Curriculum Committee, Rank and Tenure Committee, and Faculty Committee on Sustainability.
---
About Fairfield University
One of the 28-member institutions of the Association of Jesuit Colleges and Universities, Fairfield offers 45 undergraduate majors, 19 interdisciplinary minors, and 41 graduate programs. 271 full-time faculty and 326 part-time faculty teach across: the College of Arts and Sciences, the Charles F. Dolan School of Business, the Marion Peckham Egan School of Nursing and Health Studies, the School of Engineering, and the Graduate School of Education and Allied Professions. Year after year, Fairfield programs receive noteworthy praise. Recent accolades include:
Fairfield University was ranked #3 among northern regional universities by S. News and World Report. (2017)
The New York Times placed Fairfield University among the top schools in the country that help to sustain "the American Dream." (2017)
The Princeton Review named Fairfield among the top 15% of all schools in the country, and Fairfield was included in the ranking of schools considered to have the "Best Quality of Life" and "Happiest Students." (2017)
Fairfield's contribution to the public good and service to the community were cited as strong considerations as to why Fairfield was named among the top 20 master's degree granting institutions in the country by Washington Monthly. (2017)
Fairfield was named sixth among the "25 Great Colleges for Good Science Students" by Time's Money Magazine. (2016)
Fairfield's graduate accounting program was ranked #15 in the U.S. by Accounting Degree Review. (2016)
Fairfield was ranked the #2 college/university in Connecticut with respect to average starting salary of graduates according to SmartAsset. (2016)
Fairfield was one of nine U.S. universities listed among 20 rising stars in global higher education according to Times Higher Education. (2016) These 20 institutions were designated as a new generation of "challenger" universities that are "quickly rising in world rankings and have an opportunity to become globally renowned in the next 10 to 20 years."
Fairfield's nursing program was ranked #10 of 508 programs in the U.S. by USA Today. (2016)
Fairfield was ranked among the 10 best U.S. colleges for a nursing degree by USA Today. (2015)
The Egan School of Nursing and Health Studies was ranked #9 in the U.S. for its hybrid RN to BSN program by the online publication RNtoBSN. (2015)
Fairfield was ranked #33 in the U.S. with respect to graduates who earn the highest salaries according to Business Insider. (2015)
---
Fairfield 2020: The Way Forward
In January 2014, the University launched the Fairfield 2020 initiative. An intensive 17-month process with efforts and input from hundreds of members of the entire Fairfield community – students, faculty, staff, alumni and administrators – led to the unveiling of University's new strategic plan, Fairfield 2020: The Way Forward. Through this deliberative process, the University identified six strategic goals, which together provide a framework for charting future course:
Growth and diversification of revenue streams.
Speed and innovation in operations, academics and student support.
A focus on excellence, outcomes and accountability for quality assurance and continuous improvement.
Financial sustainability and careful stewardship of assets.
Diversity, mission and engagement.
A renewed sense of collaboration and community.
When Fairfield's Board of Trustees unanimously adopted its new strategic plan, it became clear that exciting changes were on the horizon. It became apparent at that time that Fairfield also needed a comprehensive plan for the campus to ensure that its physical and technological infrastructure supported and integrated with these initiatives. A multi-phased Master Plan – the first wave of which was presented to and approved by the Board of Trustees in 2016 – did precisely that. The comprehensive 10-year Master Plan tied together the physical needs of the campus with the University's fundraising and bonding capabilities so that the resulting plan preserved critical financial flexibility while delivering exciting new state-of-the-art living, learning and dining spaces to students.
The plan built upon significant enhancements made recently to athletics facilities – such as the new Rafferty Stadium, a refreshed baseball diamond, and the new state of the art Recreational complex, the "Rec-Plex" – and adds completely updated technologies in all classrooms, enhanced wireless broadband across campus, new dining and gathering spaces, a new state-of-the-art health sciences facility, and new and renovated living space in the Quad area. Follow-up phases will provide for a brand new and significantly expanded home for the Charles F. Dolan School of Business, as well as improved academic and residential spaces.
Fairfield Rising is the most comprehensive fundraising effort in the University's history. Built upon the Fairfield 2020 strategic plan, the campaign started at $160 million but having exceed that goal has now been increased to $210 million with an anticipated end date of December 31, 2018.
---
Mark R. Nemec, PhD, President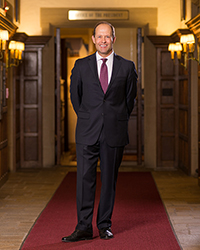 On July 1st, 2017 Mark R. Nemec, PhD became the 9th President of Fairfield University. Additionally, Dr. Nemec joined the politics department as a professor within the College of Arts and Sciences.
A graduate of Loyola High School, Jesuit College Preparatory in Los Angeles, Dr. Nemec earned a PhD in Political Science and an MA in Education from the University of Michigan and a BA in English from Yale, where he was an All-Ivy League rugby player. Early in his career, he taught American politics as a visiting assistant professor at Davidson College, and as an instructor at the University of Michigan. He is the author of Ivory Towers and Nationalist Minds: Universities, Leadership, and the Development of the American State (University of Michigan Press, 2006) and a contributor to The Educational Legacy of Woodrow Wilson (University of Virginia Press, 2012).
Beyond his research on the role of higher education in American political development, Dr. Nemec has been a frequent speaker on the current and future state of higher education and has presented to a diverse array of audiences including the White House's Forum on College Affordability, the British Council's Going Global, the New England Board of Higher Education's Summit on Cost in Higher Education, and the annual meetings of numerous higher education associations.
Most recently, Dr. Nemec served as the dean of the Graham School of Continuing Liberal and Professional Studies at the University of Chicago. As dean, Dr. Nemec led the school's significant growth and evolution by focusing on extending the university's reach to ever broader student populations in ever more innovative ways.
Building upon the University of Chicago's commitment to rigorous inquiry in all its offerings, Graham reaffirmed its commitment to lifelong learning in the liberal arts by reinvesting in its core programs for adult learners. By committing resources to both long established and newly created programs ranging from the Basic Program of Liberal Education for Adults, which celebrated its 70th anniversary during his tenure, to working with leading global employers to develop liberal arts offerings for professionals, Nemec helped the school advance its academic goals.
During his tenure, Graham invested in professional programs in newly emerging, multi-disciplinary fields recognizing their significance to higher education's continued relevance including master's degrees and certificate programs to insure career development with rigor. In just three years, Graham greatly expanded its Master of Science in Analytics program and developed a Master of Science in Biomedical Informatics both of which have generated significant impact with students and employers in a short amount of time.
Under Dr. Nemec's leadership, Graham explored, developed, and implemented new modalities and approaches to teaching and learning and served as an instrument of innovation in areas of university-wide strategic importance, with a particular emphasis on online pedagogy and digital engagement. Graham has been the steward on the university's partnerships with innovative online course providers such as Coursera, edX, FutureLearn, and GetSmarter. Additionally, Graham partnered with the University of Chicago's Alumni Relations and Development group to launch UChicago AlumniU, an online digital engagement platform which engaged over 1500 unique alumni (many for the first time since graduation) in its first year through courses and discussion forums.
Prior to his tenure at the University of Chicago, Nemec turned from academia to the use of data and analysis to help global organizations including institutions of higher education operate more strategically and effectively. He joined the University of Chicago after serving as president and chief executive officer of Eduventures, a Boston-based information services firm providing research and advice to the higher education community. He previously had been a member of the executive team of Forrester Research, a provider of similar services to the technology industry.
Dr. Nemec joined the Fairfield University community with his wife, Suzanne, and their four children Alex, Teddy, Philip and Kit. He proudly serves as President and as Professor in the Department of Politics.
---
Kevin Lawlor, Executive Vice President and Chief Operating Officer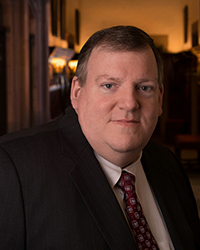 Kevin Lawlor, '79 was named Executive Vice President and Chief Operating Officer of Fairfield University in 2013. He joined his alma mater in the role of chief executive following more than 25 years in senior executive roles at United Technologies Corporation and serving most recently as Vice President and GM of AAR's Precision Systems division in Alabama. At UTC he played critical roles in finance, strategic planning, and program management, as well as the integration of multinational corporate units.
Lawlor was an Alfred P. Sloan Fellow at the Massachusetts Institute of Technology (MIT), where he completed an MBA. He studied strategic cost management at Harvard Business School, undertook Senior Executive Training at the Darden School of the University of Virginia, and received an M.S. in Taxation from the University of New Haven. He is a 1979 graduate of the Fairfield University business school.
As Executive Vice President, Mr. Lawlor oversees University operations, including Admission, Marketing and Communications, Finance, Institutional Research, Human Resources, Events and Conference Management, Facilities Management and Student Affairs.
---
Fairfield University's Benefits
Fairfield University offers a dynamic and supportive work environment, competitive salaries and a generous benefits package. Fairfield University is an equal opportunity employer.
---
Contact Information
To explore this superb career opportunity on a highly confidential basis please send a letter of interest and a resume (both as Microsoft Word documents) to:
Doug Cooney, Executive Search Consultant, Deerfield Associates Executive Search, Inc.
572 Washington Street, Suite 15, Wellesley, MA 02482
Telephone: 781.237.2800
Email
---