Fairfield University
Director of Planned Giving
Deerfield Associates is conducting a national search on behalf of Fairfield University, located in Fairfield, Connecticut, for a Director of Planned Giving.
---
Fairfield University
Fairfield University is a comprehensive Jesuit institution that prepares students for leadership and service in a constantly changing world. Fairfield University was established by the Jesuits in 1942, in the town of Fairfield, Connecticut. The third youngest of the 28 Jesuit institutions of higher learning in this country, the University's Jesuit and Catholic roots nevertheless reach back nearly 500 years–to the life and teachings of Saint Ignatius Loyola, founder of the Society of Jesus. Since its inception, Fairfield has grown from a liberal arts college, with an inaugural class of 300 undergraduate male students, into a coeducational university of over 5,000 students, both undergraduate and graduate. Today, Fairfield is a highly competitive university, consistently recognized as one of the top institutions in the Northeast.
Only 50 miles from New York City, Fairfield University is situated on a beautiful, 210-acre campus with picturesque views of the Long Island Sound. Voted by Money Magazine as one of the "best places to live" in the U.S., the town of Fairfield is set along the Gold Coast of Connecticut where breezy beaches, a thriving arts community, and premier restaurants abound. Family-oriented Fairfield also has top notch, high performing public schools with rich academic programs. Fairfield is easily accessible to I-95 and the Merritt Parkway and has three train stations on the Metro North line that extends from New Haven to New York City's Grand Central Terminal.
As Catholic, the University carries forward a rigorous intellectual tradition in its teaching and research; as Jesuit, the University takes great pride in the Ignatian educational model that prizes cura personalis – (the development of the whole person) and magis pursuit of excellence as the foundation of just and vibrant communities. As a national doctoral, professional university, Fairfield is committed to a collegiate experience for both its full-time, traditionally-aged undergraduates and its growing population of non-traditional students based on a strong, integrated liberal arts curriculum in the setting of a beautiful suburban campus. Fairfield is enriched, both at the undergraduate and graduate levels, with professional schools dedicated to academic rigor, ethical practice, social justice, and service to the wider community, especially the poor and marginalized. The University strives to develop reflective, discerning, highly educated citizens who are deeply invested in the common good.
On July 1st, 2017 Mark R. Nemec, PhD became the 9th President of Fairfield University. Additionally, Dr. Nemec joined the Politics Department as a professor within the College of Arts and Sciences.
For more background on Fairfield University please visit: https://www.fairfield.edu/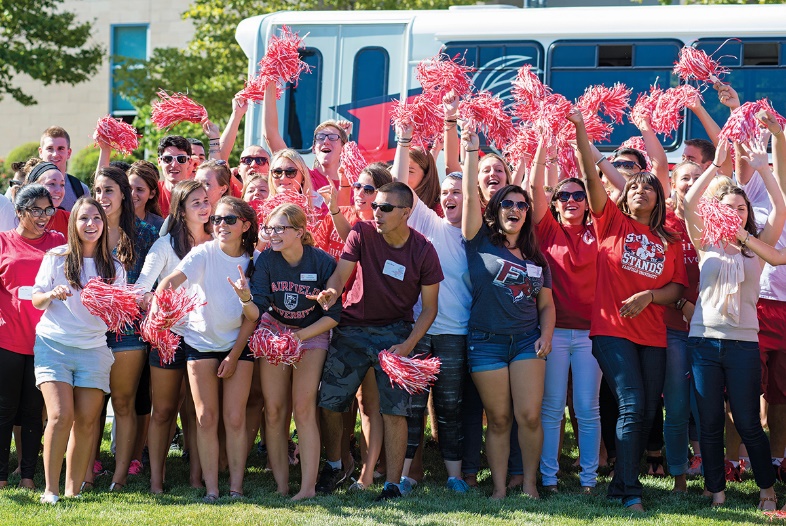 ---
The Opportunity
Position Summary:
Reporting to Geri Derbyshire, the Associate Vice President, Development (AVP), the Director of Planned Giving will plan, design, and execute a comprehensive strategy for an integrated, proactive planned giving program that is designed to maximize fundraising potential from alumni, parents and friends, increase membership in the Bellarmine Society, Fairfield's planned giving donor society, and provide appropriate stewardship of donors. The Director will identify, cultivate, solicit, close and steward gifts, primarily planned but also major and annual, from a portfolio of prospects. As a member of the Major and Planned Gifts team, this position will serve as the planned giving expert and advisor to the Advancement division, working with the Vice President of Advancement (VP), AVP and the directors of development on high-level planned giving strategies, and other fundraisers as needed, to provide strategies for soliciting and closing planned gifts. This position will also provide legal and planned giving guidance on the documentation of planned gifts and gift acceptance policies. The Director will identify and implement, or make recommendations to the VP and AVP, on creative, new and entrepreneurial gift planning practices to maximize fundraising revenue from alumni, parents, friends and community members. This role will develop and execute planned giving marketing strategies and other lead generation plans to ensure planned gifts and Bellarmine Society membership are maximized in the upcoming comprehensive campaign. The Director will manage one staff member, manage planned giving related administrative responsibilities, and meet or exceed annual goals. Ability and willingness to travel is required.
---
Knowledge and skill sets needed:
Knowledge of current gift planning strategies, estate planning methods, related tax laws and planned giving software is required. Knowledge of rules for securities, and personal and real property transactions for gift purposes is required.
Exemplary organizational and multitasking skills are required as well as a high degree of motivation and ability to work autonomously in a goal-oriented environment. Exceptional oral and written communication skills are required and also well-developed negotiation, fund-raising, and analytical skills. Excellent interpersonal skills and ability to interact effectively with a wide variety of constituents, both externally and internally are essential.
Education: A Bachelor's degree in a related field is required; a Master's degree is preferred.
Work Experience. A minimum of 5 years of experience in planned giving fundraising required. Experience in a higher education setting preferred. Experience managing portfolio of planned giving prospects, and demonstrable experience closing 6 and 7 figure planned gifts. Experience promoting planned giving via marketing strategies required. Experience managing all or aspects of a Planned Giving office preferred. Experience managing and mentoring staff to ensure that goals and objectives are met essential.
---
Essential Functions
Complete management and oversight of Planned Giving office, including

Responding to prospects and donors and their advisors on matters relating to planned gifts to the University, from the establishment of a planned gift to settlement of a bequest;
Drafting and editing written materials and proposals for use in connection with the solicitation, closing and stewardship of planned gifts;
Developing and implementing appropriate stewardship plan to recognize donors and Bellarmine Society members;
All administrative tasks related to the planned giving program;
Monitoring all planned giving related accounts and banking relationships (i.e. Charitable Gift Annuity account);
Serving as Liaison with the University's Finance Office on matters relating to planned giving, as well as with other departments and divisions relating to Gifts-in-Kind;
Providing planned giving and legal guidance on the documentation of planned gifts;
Serving as a knowledgeable advisor in gift planning and philanthropic services to Fairfield University.

Designs and executes comprehensive plan in support of the identification, cultivation and solicitation of prospects for securing planned gifts, including

Managing a robust portfolio of prospects and works directly with them and/or their advisors to negotiate and close a wide range of outright and planned giving arrangements including, but not limited to charitable gift annuities, charitable remainder and lead trusts, retained life estates, gifts of real estate and bequest intentions;
Soliciting and closing planned gifts, as well as major and annual gifts;
Meeting fundraising goals set annually.
Achieving annual visit goal with planned giving prospects within the fiscal year and meeting other moves management metrics, including ensuring that all assigned prospects receive at least one meaningful contact (phone call, email, letter or visit) per month as part of the qualification, cultivation and solicitation process.
Updating prospect records in donor database with activities, such as phone calls, written communications, and visit details, as well as entering opportunities for prospects
Partnering and working collaboratively with other University Advancement staff members, including VP, AVP, Major Gifts, Annual Giving and to maximize planned gifts;
Designing and executing prospect strategies for planned giving prospects in support of reaching University goals, including the upcoming campaign goals;
Working with Research staff to identify planned giving prospects for assignment into personal portfolio.
Developing relationships with professional advisors to help facilitate planned gifts.
Essential Functions
Serves as the planned giving expert for the Advancement division, working closely with and providing planned giving consultation and training, as needed, to the VP, AVP and Development staff members, including:

Working closely with VP, AVP and others on sophisticated gift planning strategies for high-level prospects, with a special focus on campaign gifts to maximize fundraising revenue.
Assisting in strategy-setting sessions with Development staff members to help identify and strategize on planned giving prospects within their territories;
Working with Development staff to respond to planned giving inquiries and prepare customized gift proposals for prospective donors;
Collaborating with and assisting Development staff in presenting planned giving options to prospective donors and in soliciting planned gifts through personal contact and visits.

Designs and implements, by working closely with Fairfield's Marketing Department, a comprehensive and multipronged marketing strategy, using direct mail, email, website, social media, magazine, brochures and other tools, to maximize planned gifts to Fairfield.
Works with Alumni Relations and Reunion Giving staff to develop strategies for integrating planned gift solicitations for the 45th and 50th Reunions.
Provides Associate Vice President, Development with updates on annual goals, including monthly progress reports and other reports and documentation of work to show progress towards goals.
Manages planned giving operational budget.
Assists in the planning of events to promote and celebrate planned gifts to the University.
An appreciation for the Fairfield University and Jesuit missions.
The above information on this description has been designed to indicate the general nature and level of work performed by employees within this classification. It is not designed to contain or be interpreted as a comprehensive inventory of all duties, responsibilities and qualifications required of employees assigned to this job.


---
University Advancement Division
The University Advancement Division, with over 40 staff members, is led by Wally Halas, Vice President for University Advancement since 2014. University Advancement includes Development, Alumni Relations, Athletic Development, Special Events, Advancement Operations, Prospect Research and Advancement Finance and Advancement Technology and Information Services. The Development Department, led by Geri Derbyshire, Associate Vice President for Development, includes Annual Giving, Major and Planned Giving, Office of Parents Engagement and Philanthropy, Fairfield Awards Dinner fundraising and Stewardship.
The comprehensive, goal-oriented and innovative division utilizes industry best practices and SMART goals to create and implement its initiatives and exceed goals. University Advancement has completed three capital campaigns since 1985, including the Fairfield Rising Campaign which concluded in August 2017 and raised nearly $218 million, exceeding its original goal of $160 million. Alumni participation reached 20% in FY 19. Fairfield University is in the early phases of a new capital campaign.
---
Students
Fairfield enrolls over 4,400 undergraduate students and over 1,200 graduate students, roughly half of whom are full-time. 1,256 full-time first-year students entered the University in Fall 2021. Half of the Class of 2025 graduated in the top 20% of their high school class and almost 14% are students of color. They hail from 25 states, Washington, D.C., Puerto Rico, and 9 foreign countries. While the majority of Fairfield undergraduates self-identify as Roman Catholic, there is significant religious diversity represented among the student body. In 2021, the University awarded 952 Bachelor's degrees, 391 Master's degrees, and 38 Doctorate (Nursing) degrees. For 2021-22, Fairfield University awarded more than $92 million in institutional aid. Approximately 91 percent of full-time undergraduate students received some form of financial aid.
Fairfield students benefit from the resources and reputation of a school consistently ranked among the top regional universities in the North by U.S. News and World Report. To date, more than 65 Fairfield students have been named Fulbright scholars, and the University is among the 12 percent of four-year colleges and universities with membership in Phi Beta Kappa—the second youngest school to receive this honor. More than 30% of Fairfield graduates study abroad through the University's 60+ global programs, and each year, more than 500 faculty-student research projects are conducted in the areas of STEM, the humanities, arts, and social sciences, more than half of which are presented at national scholarly meetings and/or published in professional journals.
Undergraduate students are guaranteed campus housing for all four years and over eighty percent live on campus in residence halls, townhouses, and apartments. While Fairfield has a relatively small number of traditional commuting undergraduate students, the majority of senior students not living on campus reside in the Town of Fairfield's beach area about two miles from campus. The tradition of Fairfield seniors living "on the beach" is an important one to students and alumni. Faculty, staff and administrators intentionally create opportunities for students to engage in community life that enriches curricular offerings with co-curricular experiences. The residential character of the campus promotes collaboration between academic and student affairs to integrate living and learning for the development of the whole student, including their intellectual, spiritual, cultural and social identities.
Fairfield has an active student government and there are more than 100 clubs for a wide range of social and intellectual interests. Nearly one-third of students are engaged in volunteer programs, serving in communities in nearby cities and abroad. Over 500 students participate in intercollegiate varsity athletics at the University; over 600 participate in intercollegiate club sports; and more than 1,500 are active in intramural sports. Fairfield varsity teams mainly compete at the NCAA Division I level and compete as charter members of the Metro Atlantic Athletic Conference, with the exception of men's lacrosse which is a member of the Colonial Athletic Association.
---
Faculty
There are approximately 323 full-time faculty members at Fairfield with nearly 90% holding the highest degree in their field. In the past few years, while maintaining an emphasis on effective teaching and learning, faculty scholarship has developed at an unprecedented pace. Last year, the faculty published nine books, bringing the total to 58 over a five-year period. In addition, there were over 425 scholarly articles, presentations, and artistic accomplishments. Owing to recent hiring successes and anticipated new faculty lines, this trend in increased faculty productivity is expected to continue for the foreseeable future. Fairfield's faculty is composed of teacher/scholars who place great emphasis on student learning, are good university citizens, and genuinely value service, on and off campus.
Fairfield University has a long commitment to the development of progressive and innovative pedagogy, with each of its five schools continuously exploring and fostering more efficient and effective teaching methods, learning outcomes, and the role of online and blended courses. The Center for Academic Excellence provides a central place on campus dedicated to supporting the development of the best in new teaching methodologies, the expansion of student-faculty research opportunities, the ongoing support for continuous reflection on teaching, and the scholarship of teaching and learning.
Through a series of committees on which faculty from across the various schools and disciplines work with University administrators, faculty have voice in almost every aspect of the institution. Fairfield's faculty takes these responsibilities seriously, with most participating in governance at the department, school, and/or University level. The Provost and Senior Vice President for Academic Affairs Christine Siegel sits ex officio on a number of faculty committees, including the Academic Council, Research Committee, Undergraduate Curriculum Committee, Rank and Tenure Committee, and Faculty Committee on Sustainability.
---
About Fairfield University
One of the 28-member institutions of the Association of Jesuit Colleges and Universities, Fairfield offers 47 undergraduate majors, 19 interdisciplinary minors, 44 graduate programs and 5 doctoral programs, and has over 300 full-time faculty and 300 part-time faculty teach across: the College of Arts and Sciences, the Charles F. Dolan School of Business, the Marion Peckham Egan School of Nursing and Health Studies, the School of Engineering, and the Graduate School of Education and Allied Professions. Year after year, Fairfield programs receive noteworthy praise. Recent accolades include:
In December 2021, the University was elevated to the Doctoral Professional category in the new Carnegie Classification, distinguishing Fairfield nationally, and reflecting the academic strength and growth of our graduate and professional programs.
U.S. News & World Report (2021) ranked Fairfield University

#3 in the Northern Region Best Colleges
#1 in the Northern Region for Alumni Giving
#2 spots for Most Innovative School and Best Undergraduate Teaching by U.S. News & World Report Best Colleges (2021)

The Wall Street Journal/Times Higher Ed placed Fairfield University in the top 200 out of 801 colleges and universities nationwide in their annual college ranking (2021)
Fairfield University was named No. 1 Best College for Nursing in Connecticut in research site Niche's Best Colleges ranking (2021)
Graduate programs in Fairfield University's Charles F. Dolan School of Business placed in the Top 25 nationwide of U.S. News & World Report's Best Graduate Schools rankings: Accounting ranked No. 20, Marketing ranked No. 18, and Finance ranked No. 25 (2021)
Fairfield University's Marion Peckham Egan School of Nursing and Health Studies' Doctor of Nursing Practice (DNP) program and Master of Science in Nursing program once again ranked among the Top 75 in the nation for U.S. News & World Report's Best Grad Nursing Programs (2021)
Fairfield University was again ranked in the top 20% of Money magazine's annual list of "Best Colleges for Your Money" (2021)
Fairfield University was named to Princeton Review's nationwide list of the best 386 colleges, also earning several national and regional distinctions, including places on the review's lists of Best Northeastern Colleges, Best Value Colleges, and Green Colleges (2021)
Fairfield University has once again been ranked in the Top 5 percent nationwide in College Factual's annual Best Quality Rankings. Regionally, Fairfield University was ranked #1 in Best School Psychology Master's Degree Schools; #1 in Best Communication & Media Studies Master's Degree Schools; #1 in Best Public Relations & Advertising Bachelor's Degree Schools; #1 in Best Nursing Doctor's Degree Schools; and #2 in Best Psychiatric/Mental Health Nursing Doctor's Degree Schools (2022)
Fairfield was named one of the Top 10 Best Catholic Colleges & Universities by College Consensus (2021)
Placed in the top 33% of Kiplinger's "Best Value Colleges" national listing and in the top 25 best value universities in New England (2019)
---
Mark R. Nemec, PhD, President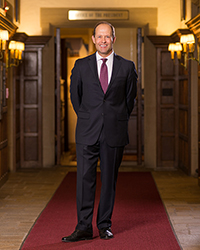 On July 1st, 2017 Mark R. Nemec, PhD became the 9th President of Fairfield University. Additionally, Dr. Nemec joined the politics department as a professor within the College of Arts and Sciences. A graduate of Loyola High School, Jesuit College Preparatory in Los Angeles, Dr. Nemec earned a PhD in Political Science and an MA in Education from the University of Michigan and a BA in English from Yale, where he was an All-Ivy League rugby player. Early in his career, he taught American politics as a visiting assistant professor at Davidson College, and as an instructor at the University of Michigan.
He is the author of Ivory Towers and Nationalist Minds: Universities, Leadership, and the Development of the American State (University of Michigan Press, 2006) and a contributor to The Educational Legacy of Woodrow Wilson (University of Virginia Press, 2012). Beyond his research on the role of higher education in American political development, Dr. Nemec has been a frequent speaker on the current and future state of higher education and has presented to a diverse array of audiences including the White House's Forum on College Affordability, the British Council's Going Global, the New England Board of Higher Education's Summit on Cost in Higher Education, and the annual meetings of numerous higher education associations.
Most recently, Dr. Nemec served as the dean of the Graham School of Continuing Liberal and Professional Studies at the University of Chicago. As dean, Dr. Nemec led the school's significant growth and evolution by focusing on extending the university's reach to ever broader student populations in ever more innovative ways.
Fairfield University's Benefits: Fairfield University offers a dynamic and supportive work environment, competitive salaries and a generous benefits package. Fairfield University is an equal opportunity employer.
Snapshot Summary: https://www.fairfield.edu/human-resources/faculty-staff-benefits/snapshot-summary/index.html
Fairfield University is an equal opportunity employer. Fairfield University is an intentionally diverse and inclusive residential community "committed to creating an equitable and inclusive school in which students from diverse backgrounds, cultures, and experiences—including race, ethnicity, nationality, gender, socioeconomic class, sexual orientation, gender identity, religion. The ideal candidate supports the inclusive and diverse nature of the community.
Any offers of employment will be contingent upon successful background checks conducted by Fairfield University as well as unrestricted authorization to work in the United States.
---
Contact Information
To explore this superb career opportunity on a highly confidential basis, please send your resume and letter of interest and list of 4 references (which will only be contacted if mutual interest is determined) to:
Doug Cooney, Executive Search Consultant, DEERFIELD ASSOCIATES Executive Search, Inc.
572 Washington Street, Suite 15, Wellesley, MA 02482 Telephone: 781-237-2800.
Email: jobs@deerfieldassociates.com