Millbrook School
Chief Financial Officer
Deerfield Associates Executive Search, Inc. has been retained by Millbrook School, located in Millbrook, New York, to conduct a national search for a new Chief Financial Officer.
---
Millbrook School
Founded in 1931 by Edward Pulling and located in scenic Dutchess County, Millbrook School is an independent, coeducational high school which offers a rigorous college preparatory education to its 315 students, of whom 270 are boarders and 45 are day students. In addition, there are approximately 3,100 living alumnae/i.
Millbrook's mission is to prepare its graduates for college and lives of meaning and consequence by instilling the values of respect, integrity, stewardship for the natural word, service and curiosity. The school fulfills this mission by assuring that each student is "known and needed." That is, each student is well known by a group of faculty members who do their best to lead that student as far along the path to her or his potential as possible. Further, through Millbrook's signature community service program, each student has real responsibility and plays a meaningful role in the life of the school. The size and composition of the student body are designed to enhance the talented faculty's ability to achieve the school's mission.
For further understanding of Millbrook's distinctive excellent, please watch the videos here.
Words from Headmaster Drew Casertano
Virtual Student Tour of Millbrook School
The annual operating budget for 2017 – 2018 for Millbrook School is $20,000,000. The School's current endowment is approximately $37 million dollars and Millbrook recently completed a $65,000,000 capital campaign, known simply as Vision 2017, which contributed to substantial new construction and renovations on campus. Following the success of the Vision 2017 campaign, the school is currently in a one year challenge to grow the endowment by $20,000,000.  In addition, the board and senior administration will soon complete the priorities for Vision 2020.
The Millbrook School CFO search is currently underway. It is our intention to select the candidate of choice by early 2018, with a start date of July 2018.
---
The Position
The Chief Financial Officer (CFO) at Millbrook School is a senior member of the faculty and administration who reports to the Headmaster.  In addition, the CFO works closely with the Board of Trustees, especially the following committees and their chairpersons: Audit, Finance, Investment, and Physical Resources.  Further, the CFO supervises the Director of Physical Plant, School Store, Security, IT and the business office staff, which consists of five people and is the equivalent of 4.25 FTE's.  The CFO also serves as the liaison to the food service, through the service's manager.
Through his/her oversight of Millbrook School's finances, beginning with its annual budget and physical plant, the CFO plays a central role in shaping the school's ability to fulfill its mission and its strategic plan.  In particular, the CFO helps, in important ways, the school to fulfill its commitment to community service and environmental stewardship.
Thus, the responsibilities of the CFO are broad and varied, though they begin with managing Millbrook's accounts and budget effectively.  Whether direct or supervisory, the CFO's responsibilities include:
Accounting
Preparing and overseeing the operating budget.
Overseeing the general ledger and subsidiary journals, including accounts receivable and accounts payable.
Overseeing the payroll.
Preparing budget reports for the Finance Committee and the Board of Trustees.
Serving as liaison to county, state, and federal regulatory agencies.
Overseeing the preparation of the necessary reports and documents for the annual audit.
Overseeing the reconciling all school bank and endowment accounts.
Responding to recommendations from the external auditor in its Management Letter.
Training and supervision of department staff.
Business Office Operations
Long Term strategic planning
Overseeing support services (catering and maintenance) for school events, activities, and programs.
Overseeing the rental of and use of school facilities by outside groups.
Preparing and managing the yearly capital expenditures program.
Managing all incoming and outgoing mail and packages.
Finance
Managing cash management, borrowing, and short-term investments.
Managing bank relations.
Managing debt and debt covenants
Human Resources
Overseeing personnel benefits, including health care, long-term disability, 403(b) plan, and payroll plan.
Supervising office and maintenance department hiring.
Compliance with all local, state and federal labor laws
Risk Management and School Insurance
Maintaining property, liability, and D&O policies as directed by the Board of Trustees.
Preparing and implementing an annual risk management audit.
Managing insurance broker relations.
With the Director of the Physical Plant, assessing, and, when necessary, implementing insurance carriers' recommendations.
Along with staffing the aforementioned committees of the board, the CFO serves as a member of the Trustee Administrative Committee (TAC), which includes the Headmaster, assistant headmaster for institutional advancement, dean of students, dean of faculty, director of admission, director of development, and director of the Trevor Zoo.  As a senior administrator and full-time member of the faculty, the CFO is expected to have student advisees and to serve as Administrator on Duty.  The CFO may participate in the community service and the student activities programs.

---
The Qualifications
Millbrook School seeks the following professional experiences and personal qualities in the new Chief Financial Officer.
A strong background in financial systems, accounting, modeling, investment and risk management, support services administration, and business services.
Effective financial and business management and the ability to earn the respect and attention of faculty, administration, staff, students and the Board of Trustees.
Ability to effectively interact with all levels of the school community – the administration, staff and faculty, the Board of Trustees, alumni and friends of the school, and the town of Millbrook.
An open and collaborative management style characteristic of a team player.
Excellent communication skills, both oral and written.
A high level of integrity and an extraordinary work ethic.
Knowledge and experience in setting up effective financial controls. Proven financial modeling, accounting and forecasting skills.
Attention to detail and a strong background in Not-For-Profit accounting systems, Blackbaud or comparable accounting software, MS Word and MS Excel, are required.
Effective negotiation skills in developing contracts with external vendors.
Ability and interest to motivate, develop, and lead existing staff. Ability to recruit and hire new staff.
Creativity, a positive outlook, pro-active orientation and a sense of humor.
Experience in and a commitment to working in an independent boarding secondary school setting strongly preferred.
8+ years' work experience at an independent school or similar non-profit organization preferred.
Bachelor of Arts degree in business, finance, and/or accounting required. B.A. and/or a master's degree in a related field preferred.
---
Meet Millbrook's Sixth Headmaster
A graduate of both the Choate School and Amherst College, Mr. Casertano holds a master's degree in education from the Harvard Graduate School of Education. Following his graduation from Amherst, he began his teaching career as a member of the history department at the Loomis Chaffee School.  After five years there, he moved to The Gunnery as director of admission and financial aid.  In 1985, he returned to Loomis Chaffee as its director of admission and financial aid. In 1990, he became Millbrook's sixth headmaster.  After twenty-seven years at Millbrook, Mr. Casertano is proud to say that he has been the school's headmaster for more than half of his professional life.
Those are his formal credentials. What makes him an outstanding headmaster has to do with even more than education and professional affiliations.
During his many years in independent education, Mr. Casertano has also been a history teacher, a dorm parent, a director of student activities, a football, lacrosse, and hockey coach, and an advisor to dozens and dozens of students. And, he is dad to three sons. He involves himself in each of these activities at Millbrook. How does he fit it all in? Simply put, he makes time because he truly enjoys being a part of students' lives.
Mr. Casertano is very proud of Millbrook School and would list the following among its most important characteristics:
"The clarity and importance of our mission. We know who we are and while one of our goals is to provide excellent preparation for college, we see our fundamental purpose to be to ready our students for lives which are satisfying and successful. More specifically, we seek to instill in each of our students curiosity, respect, integrity, stewardship of the natural world, and a commitment to serving others.
The exceptional talents and commitment of our faculty. These individuals have remarkable energy and ability and they find nothing more gratifying than using their talents and experience to help their students grow in healthy and substantial ways. They are an impressive group.
The richness of our program. At Millbrook students do not have to sacrifice choice and opportunity to benefit from the close individual attention and the strong sense of community which is so much a part of this small school. In fact, it is the combination of that choice and our size which creates the school's hallmark – involvement. Millbrook students are fully immersed in the life of their school. They are encouraged to explore their talents and interests and to contribute to the well-being of others."
---
Images of Millbrook School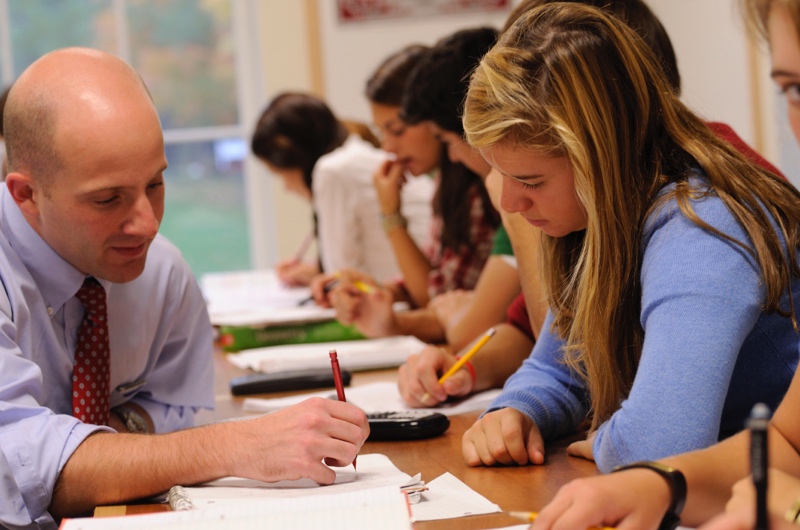 ---
Diversity Statement
Valuing diversity is essential to Millbrook School's mission: to prepare our students for a life both individually satisfying and valuable to the greater society. We strive to preserve and renew this vision as we deliberately construct a community that embodies and celebrates the diversity that characterizes the modern world.
Our cultivation of a truly enriching learning environment can only be complete when we attract and retain a diverse population of students, faculty and staff who reflect, welcome, and respect differences including those in ability, age, class, ethnicity, gender, nationality, race, religious affiliation, and sexual orientation.
We expect the members of this community to respect all that makes us unique and explore perspectives that challenge our own. We must therefore equip our community with the language and skills necessary for honest inquiry and discussion, as we empower ourselves to be ethical citizens at Millbrook School and beyond.
---
Millbrook School Benefits
Millbrook School offers a dynamic and supportive work environment, competitive salaries and a generous benefits package including a retirement plan, paid vacations, campus housing and medical insurance. Millbrook School is an Equal Opportunity Employer.


---
Contact Information
To explore this superb career opportunity on a highly confidential basis please send a letter of interest and a resume (both as Microsoft Word documents) to:
Doug Cooney, Executive Search Consultant, Deerfield Associates Executive Search, Inc.
572 Washington Street, Suite 15, Wellesley, MA 02482
Telephone: 781.237.2800
Email
---