The Elisabeth Morrow School
Senior Director of Institutional Advancement
Deerfield Associates Executive Search, Inc. has been retained by The Elisabeth Morrow School, located in Englewood, New Jersey, to conduct a national search for a Senior Director of Institutional Advancement. 
---
The Elisabeth Morrow School
The Elisabeth Morrow School, a coeducational day school serving students age 3 through grade 8, was founded in the 1930's as the "Little School," by Smith College classmates Elisabeth Morrow and Connie Chilton. In their quest to start a school for young children, these passionate educators traveled the world studying with pioneers such as Maria Montessori and John Dewey. According to Elisabeth, this new school would include a balance of "faith in the old education and trust in the new" in an environment of "individuals working toward a common purpose".
More than 85 years later, the School, on the site of the former Morrow family estate, occupies a beautiful 14-acre setting, which includes nature trails, a brook, and many forms of wildlife. The School educates 430 students from over 50 different towns in Bergen, Hudson, and Union counties in New Jersey and from Manhattan, the Bronx, and Rockland counties in New York. The students speak over 20 home languages, mirroring the demographics of the area in which the School is located.
Dedicated to providing an exemplary academic program and a transformative student experience, the school offers cutting-edge programming in STEM (science, technology, engineering, arts, and mathematics) while the humanities programs allow students to explore themselves and the world through multiple perspectives. The nationally renowned instrumental music program allows every third through sixth grade student to practice an instrument four times a week. The School's commitment to social and emotional learning, as well as the emphasis on leadership and character education through the 4 C's, ensure that students have a holistic and child-centered experience through their years at the School.
The School has recently completed a strategic planning process that will guide the priorities for the next five years. Underscoring all of the plan's goals is a shared commitment to inspire students to become curious scholars, ethical leaders, and global citizens, and that starts in the classroom.
Further, the School boasts a committed and enthusiastic parent and alumni body of volunteers.
To learn more about The Elisabeth Morrow School, visit www.elisabethmorrow.org.
---
The Position
The Elisabeth Morrow School seeks a visionary and charismatic leader to inspire and guide our development program as Senior Director of Institutional Advancement.  The ideal candidate is someone who is an experienced, entrepreneurial, results-oriented senior development professional.  The new hire will work closely with a dynamic, compelling Head of School in Maureen Fonseca, who will be joining EMS in July of 2019.  The current endowment of the School is $14 million dollars.
The Senior Director of Institutional Advancement will direct an intense philanthropic effort, providing leadership, direction and support to alumni affairs, major gifts, annual giving, planned giving, communications and publications functions, and all other advancement activity to increase alumni participation and continue building on the strengths of parent support.
The strategic initiatives for immediate growth of the development office include: reorganize reporting structure to leverage talent and enhance efficiency; streamline Annual Giving, Events, and Alumni Relations responsibilities; streamline database and internal-facing activities; invest in major gifts for the campaign. Additional initiatives include aligning and managing two frontline advancement positions to focus on qualifying and cultivating major gift prospects, which include moving each prospect through the pipeline for the cultivation, ask and closing of major gifts.  This would include providing appropriate metrics for the number of prospects to be assigned to each portfolio and corresponding number of visits for a successful outcome.  The new hire will directly manage and lead a team of five (5) which include a Director of Major and Planned Giving, Development Manager, Director of Annual Fund, Director of Alumni Relations and a Development Services Assistant.
The Elisabeth Morrow School is about to embark on a new capital campaign to secure funds for facilities improvement and to enhance the School's $14 million endowment to support program, faculty compensation, and professional staff development. The Annual Fund recently hit $1 million dollars for the first time in the School's history.
Maureen Fonseca, the new Head of School, enjoys advancement work and has a proven track record of successful fundraising in the tens of millions of dollars. Dr. Fonseca, to whom this new hire will report, values a person who is strategically oriented, knowledgeable about capital campaigns, enthusiastic, genuine, an effective manager and leader of people, a team player and one who will become dedicated to the mission of The Elisabeth Morrow School.
---
Key Responsibilities
Manage, lead, and oversee the development department, including supervision of and support for capital and major gifts, annual fund, planned giving, alumni affairs and development.
Work with the Head of School, Trustees, fund raising counsel and volunteer leadership to refine and execute all major gift and capital fundraising.
Manage all major gift solicitations, maintaining a specific caseload of assigned prospects and assuming a solicitor's role when necessary and appropriate.
Prepare and update annual and long-range development plans.
Hire, motivate, manage, train, develop and evaluate a five-person development staff, including a Director of Major and Planned Giving, Director of Annual Fund, Director of Alumni Relations, Development Manager, and Development Services Assistant.
Serve as administrative liaison to the Development Committee, Campaign Committees and Committee on Trustees.
Attend Board meetings as needed.
Serve on the Administrative Council with other senior-level administrators.
Identify potential contributors and develop individualized solicitation strategies.
Oversee donor cultivation, recognition and ongoing stewardship.
Plan and coordinate development/alumni events.
Oversee information systems and manage prospect tracking.
Oversee the design and production of all fund-raising materials and publications.
---
Qualifications
Ability to interact effectively with and earn the respect of all the constituencies of the School community: Head of School, administration, staff, faculty, Board of Trustees, alumni, parents and friends of the School.
Knowledge of how to market and communicate effectively the values and mission of the School both internally and externally to faculty, staff, parents, alumni and friends.
Experience and ability to lead, motivate and develop Advancement staff.
Effective management skills and experience strategically leading an evolving advancement function.
Excellent organizational, interpersonal and communication skills.
Demonstrated success in soliciting, cultivating and closing Major and Planned Gifts.
Proven track record of setting and achieving ambitious goals.
Ability to operate both autonomously and in a directed team effort.
Ability to develop excellent rapport with donors and volunteers, and to interact with them professionally and socially with ease and comfort.
Experience in organizing and conducting a Capital Campaign.
Ability to travel and maintain a schedule that requires occasional evening and weekend work.
Skill at building constituencies among board members, parents and alumni.
A strong commitment to a co-ed independent day school serving students age 3 – grade 8 is essential.
Integrity, warmth, confidence, a positive outlook and a good sense of humor.
Bachelor's degree required.
8+ years of advancement experience required, with experience strongly preferred in an independent school or possibly in a higher education setting.
---
Our Mission
The Elisabeth Morrow School's shared purpose is to provide exemplary academics and character development in a diverse and inclusive child-centered community, inspiring students to become curious scholars, ethical leaders, and global citizens.
---

The Elisabeth Morrow School welcomes Maureen Fonseca, Ph.D.,
our incoming Head of School
Maureen Fonseca, Ph.D. has been selected, by a unanimous vote of the Board of Trustees, to lead The Elisabeth Morrow School. On July 1, 2019, Dr. Fonseca will become EMS' seventh Head of School.
Dear EMS Community:
It is with great pleasure that I announce that the Board of Trustees has unanimously selected Dr. Maureen Fonseca to be our seventh Head of School, effective July 1, 2019. She will succeed Dr. Judy Fox, our Interim Head of School.
Maureen brings to us outstanding experience in independent schools and non-profit organizations. She understands what students and schools need to thrive and she has a proven track record of success. Coupled with her exceptional experience, Maureen's strength of character, warmth, and enthusiasm captured our hearts and minds. At every step of the search process, Maureen evinced both strength and humility.
She inspired us with her vision for children in the world of tomorrow. At the same time, she articulated personal standards and principles that align beautifully with our mission and core values. We wholeheartedly believe that Maureen is exactly the right person to steward EMS as we continue to grow and achieve the goals of our strategic plan.
Maureen has had many significant professional accomplishments. In 1988, she founded St. Philip's Academy in Newark with a mission of preparing students for competitive secondary schools. In her 12 years there, St. Philip's grew from an opening enrollment of 10 children in first grade to over 200 students, in kindergarten through eighth grade.
From 2000-2015, Maureen served as head of The Masters School, a day and boarding school in Dobbs Ferry, NY, where she led a significant expansion increasing enrollment by 70% in grades 5-12. She led the evolution of school, which had just become co-educational, and introduced comprehensive strategic plans and programs for faculty retention and professional development. While at Masters, Maureen and her husband organized forgiveness and reconciliation trips to rural areas in Rwanda and engaged Masters' students in an international community of learners and educators in Haiti.
Maureen is currently Chief Executive Officer of Sports & Arts in Schools Foundation/New York Edge, a community-based organization serving 35,000 students in 150 under-resourced New York City public schools. There she has increased private funding, implemented a new strategic plan, and attained city-wide recognition for the organization's work. In fact, throughout her professional life, Maureen has distinguished herself with success in annual fundraising, large capital campaigns, and long-range vision and planning.
Maureen has contributed to many professional organizations. She is currently a Board Member of the French American School of New York and has served as Chair of the Fairchester Heads Association and as Treasurer of the Headmistresses Association of the East. She recently completed nine years of service as Commissioner on Accreditation for the New York State Association of Independent Schools.
Maureen is married to The Very Reverend Petero A. N. Sabune, chaplain and director of the New York Theological Seminary master's degree program at Sing Sing, the maximum-security prison in Ossining, NY. She has four children and four grandchildren.
Maureen earned a B.A. in French and Russian from Vassar College and an M.A. and Ph.D. in French Literature from Fordham. She speaks French fluently and is conversant in Spanish, and Russian.
The combination of Maureen's impressive credentials as well as her many personal qualities convinced our Board of Trustees that she was the right choice to lead the Elisabeth Morrow School. Maureen's lifelong commitment to and love of children shone through her many conversations with members of our community. Her engagement in service to others and her focus on our common humanity demonstrate that she lived the 4C's before even meeting us.
We cannot stress enough how appreciative we are for everyone's participation in the inclusive search effort. The Search Committee, composed of trustees, administrators, alumni, parents of alumni, and current parents, worked tirelessly to find the right candidates for our school. We are deeply grateful to them and to the committee chairs, J Agresta and Kathie Kamiel, who were unparalleled in their leadership. We are also thankful to and all the members of The Elisabeth Morrow School community, for your support. We valued and applied your insights, which helped us find exactly the kind of leader The Elisabeth Morrow School needs as we approach our 90th anniversary.
We will now begin the important work of ensuring a smooth and thoughtful transition process in partnership with Judy. There will be many opportunities for Maureen to join us on campus before the end of the school year but in the meanwhile, we know you will join us in extending a warm welcome to Maureen and her family as we look forward to partnering with her to lead our school into an even brighter future!
Warm regards,
Hanita Walia
President, Board of Trustees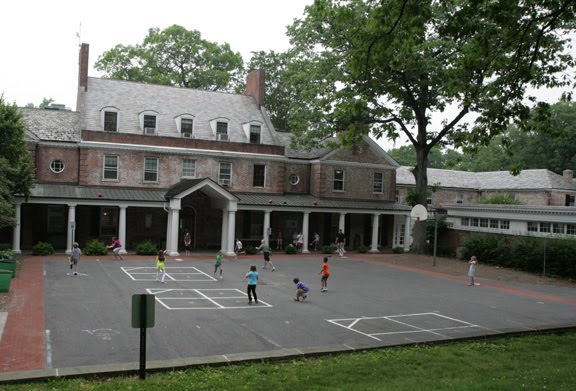 ---
The Elisabeth Morrow School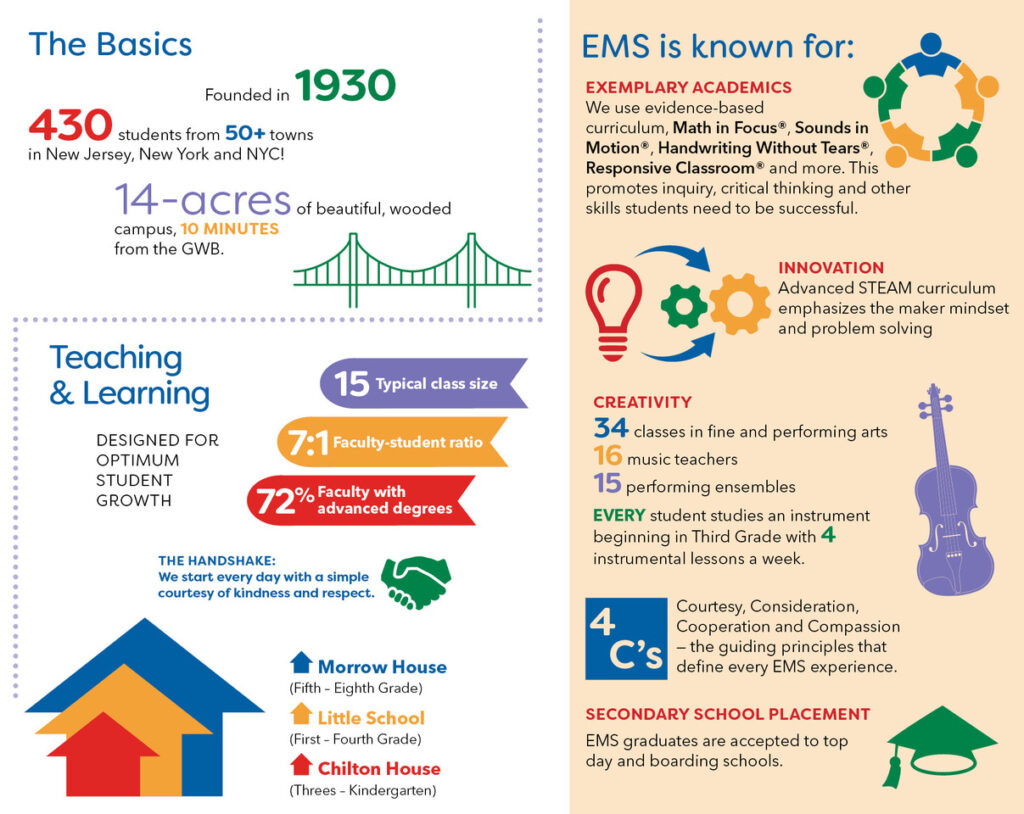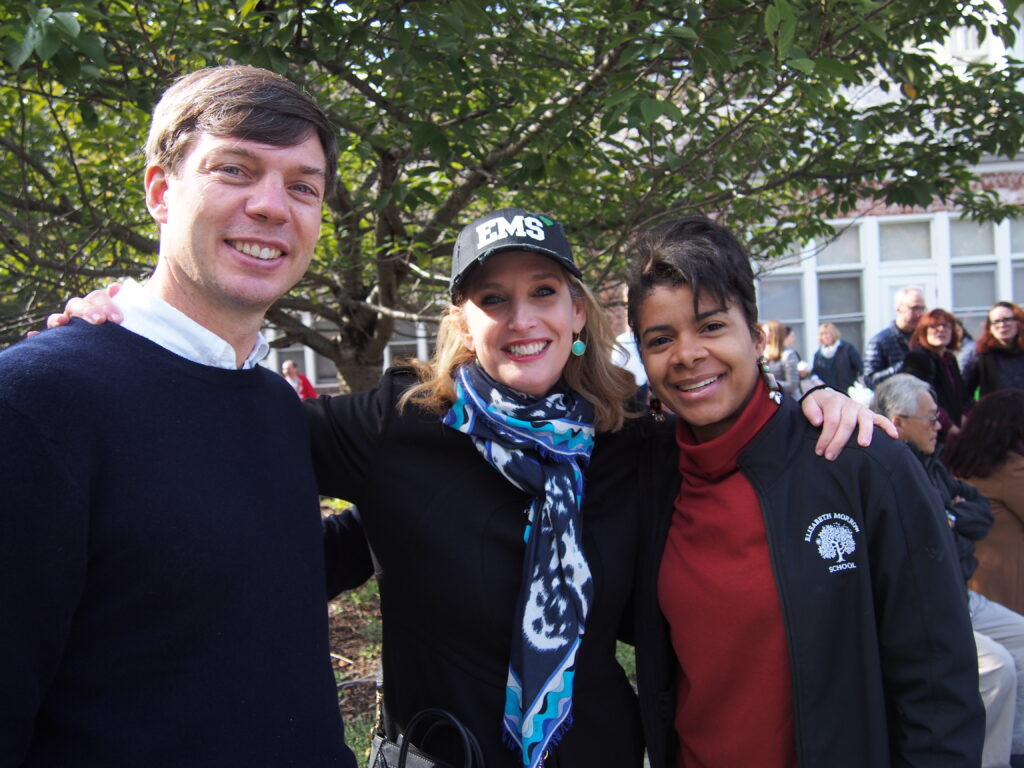 One of the first things that families notice about EMS is the strength of our community. From the moment families enter our admissions process (when they are assigned their own admissions concierge) to new family coffees, cocktail parties, welcome dinners and monthly information sessions just for them, families are embraced by our school.
We also know that different families need different things. Beyond the support that we provide to children so that they can become the best version of themselves, we also provide many opportunities for families to get involved, whether it's through the many volunteer activities our innovative Parents Association sponsors, or through assisting on field trips or with our many fundraising activities. As your family evolves and your needs change, our school is always eager to partner with you to support the education of your child. We at EMS know that educating the whole child means that families must play a central role.
---
The Elisabeth Morrow School Benefits
The Elisabeth Morrow School offers a dynamic and supportive work environment, competitive salaries and a generous benefits package including a retirement plan, paid vacations and medical insurance. The Elisabeth Morrow School is an Equal Opportunity Employer.
---
Contact Information
To explore this superb career opportunity on a highly confidential basis please send a letter of interest and a resume (both as Microsoft Word documents) to:
Doug Cooney, Executive Search Consultant, Deerfield Associates Executive Search, Inc.
572 Washington Street, Suite 15, Wellesley, MA 02482
Telephone: 781.237.2800
Email
---