The Nightingale-Bamford School
Chief Financial Officer/Chief Operating Officer
Deerfield Associates Executive Search, Inc. has been retained by The Nightingale-Bamford School, located in New York City, to conduct a national search for a Chief Financial Officer/Chief Operating Officer. 
---
The Nightingale-Bamford School
Founded by two bold, visionary entrepreneurs in 1920–the same year that women won the right to vote–The Nightingale-Bamford School gives girls from diverse backgrounds a rigorous college preparatory education. The school is widely recognized as one of the top girls' schools in the country. There are currently 668 students enrolled in the school (Lower School 232; Middle School 202 and Upper School 234). Average class size is 12, student to faculty ratio: 6:1, and $5.5 million of aid was awarded this past year.
Nightingale offers a unique academic program that leads from a foundation of essential skills to ever-increasing independence and creativity. By developing both the intellect and the character of girls from kindergarten to twelfth grade, Nightingale prizes and reflects a balance between mind and heart, producing young women of passion who enter the world with confidence, compassion, and an independent voice.
The school is located on the Upper East Side in Manhattan, in the Carnegie Hill neighborhood, near many museums and Central Park. 111 full-time faculty members teach in the technologically advanced schoolhouse.
The annual operating budget for the school is 32,297,617 million. The school's endowment is currently valued at $68,647,766 million. In 2014/15, Nightingale received $12 million in gifts, including $3,400,000 million in annual giving. There are 2,400 living alumnae.
The CFO/COO position is targeted for hire February 1, 2020.
---
Mission Statement
The Nightingale-Bamford School inspires girls to go beyond barriers.
Our vision is for Nightingale students to be joyful learners who have the intellectual depth and the courage to be critical thinkers, compassionate citizens, and agents of their own lives; in doing so, we advance equity for the betterment of all.
To achieve this mission and vision, we will educate girls' minds and hearts by:
Infusing their lives with meaningful relationships;
Teaching them to value difference as a source of strength and means of growth;
Empowering them to question the status quo with confidence, empathy, resilience, and reason.
---
Opportunity Description
Nightingale is searching for an innovative leader with financial, and operations transformation acumen with significant experience, preferably in a non-profit or higher education setting, with increasing responsibility and proven management success.
The Chief Financial & Operating Officer (CFO & COO) is the chief financial, business and administrative officer of the school who sets the financial and operational agenda for the institution, and provides guidance and leadership to ensure the efficient, effective, and timely stewardship of the schools financial and operational resources ensuring that they are deployed efficiently and in support of the School's mission and goals.
As a key member of the Head of School's leadership team, this position serves as a strategic partner and advisor to the Head of School, Leadership Team, Board of Trustees including serving as the staff lead on the Finance, Audit, Investment and Facilities Committees in all matters related to the operations and financial planning for the institution. Must have demonstrated ability to take big picture concepts and break them down into actionable items.
The CFO & COO oversees all finance functions, including budgeting, accounting, financial reporting, long-range financial planning, treasury management, investments, asset management, liability management, and risk management. She/he will be involved in almost every facet of the institution, including supporting the enrollment department by serving as the chair of the financial aid committee, IT, Human Resources, facilities, administrative oversight and auxiliary services to ensure fiscal integrity, the effective management of financial resources, and the deployment of resources in support of the School's mission.
CFO & COO will collaborate with the Head and senior leaders to chart the vision for the next century and will play a critical and on-going role to bring that vision to reality. The Chief Operating & Financial Officer will assist the Head by bringing his and the leaderships vision to fruition by employing their expertise in strategy development, developing partnerships, identifying revenue generating ventures, and the creating of big ideas for modern, forward-thinking solutions that will lead the institution toward higher organizational performance.
CFO & COO plays an active role in shaping the strategy and a culture of excellence and innovation. As a key institutional leader, the Chief Operating & Financial Officer is a big-picture thinker, with outstanding skills in analytics and attention to detail, who will bring counsel, collaboration, and ensure the integrity of fiscal data and modeling transparency and accountability.
The CFO & COO embraces a culture of respect for the individual, integrity, ethics and transparency, and sets the standard with their leadership abilities.
The CFO & COO ensures a high-performance team, will have a passion for developing and mentoring people, and embed best practices, including organization-wide continuous improvement.
In short, the CFO & COO will have an opportunity to help shape an innovative, state-of-the-art institution. If you are a creative leader and builder, who drives towards excellence, this opportunity is for you.
---
Key Relationships
Reports to the Head of School. Direct reports include but are not limited to; Associate Director of Finance and Controller, Director of Operations and Capital Planning, Director of IT, Director of Human Resources, and the Registrar.
---
Requirements
Significant and broad senior-level management experience, providing strategic financial and operational leadership;
Strong analytical acumen and technical capability and the ability to translate technical information into a usable and understandable format;
Experience in Data visualization to give end-users access to real-time financial information and improve organizational performance;
Demonstrated expertise in strategic financial planning, investment management, debt financing and management;
Organizational Transformation/Change Management is required;
Proven ability to handle a broad set of responsibilities;
Commitment to personal and professional integrity; and the ability and desire to support the School's mission;
A strong strategic orientation with the ability to effectively partner with, and communicate to, the Head and other leaders on the senior administrative team;
Experience recruiting, developing, and retaining a high-performing team;
Proven track record in implementing innovative processes and systems;
Experience in leading each of the areas under her/his responsibility;
Proven track record building a culture of analytics for data-driven insights; a change agent committed to excellence.
Additional opportunities to lead include:
She/he may also be asked to serve as a student club adviser and/or in teaching roles by academic leaders and would be excited about leveraging their expertise by embracing and encouraging a student-centered teaching environment.
---
Skills & Personal Characteristics
Leadership
Leads by example; as an individual contributor and inspirational leader.
Organized, with the ability to implement systems and processes whilst retaining the flexibility required to manage effectively in an organization that is undergoing growth and change
Not willing to settle for conventional wisdom versus optimally effective solutions.
Is able to bring the best out of employees and colleagues
Communication
Excellent negotiation, influence, and presentation skills.
Will have the gravitas, charisma and knowledge to be credible in all business situations
Motivation/Culture Fit
Mission driven above all else—approaches work at Nightingale as a necessity for the world as opposed to merely a "good thing"
Relishes the idea of digging in and executing as opposed to solely managing others
Highly self-motivated and self-managed—requires little direction outside of goals
Strongly performance oriented and accountable
Education:
Bachelor's degree (Required)
Master's degree (Required)
CPA (Preferred)
---
Head of School
Paul A. Burke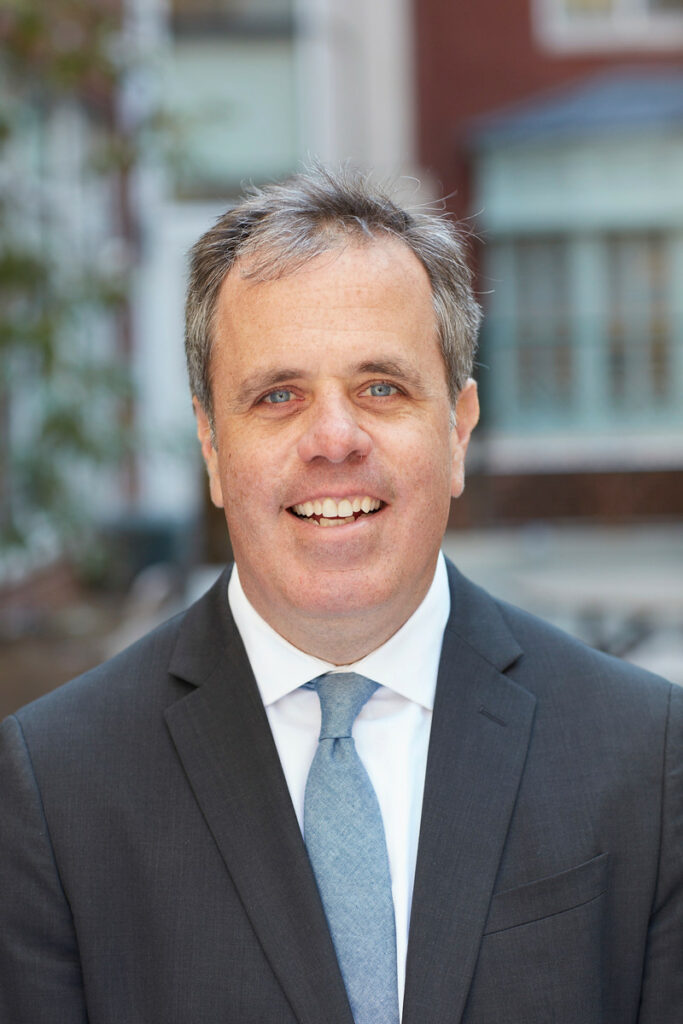 Welcome to the Nightingale-Bamford School.
It is a time-honored tradition at Nightingale that on the first day of school, each Kindergarten girl shakes my hand at our iconic blue doors and then takes the hand of a senior who warmly and excitedly welcomes her into our community and leads her upstairs to her Kindergarten classroom. This small but significant moment embodies the Nightingale ethos: each girl is known, each girl matters, and those who come before will help ensure the success of those who come after.
Our visionary founders, Frances Nicolau Nightingale and Maya Stevens Bamford, first welcomed girls to our schoolhouse in 1920. Miss Nightingale was known for the interest and care she displayed for every aspect of her students' lives; Miss Bamford was celebrated for her academic rigor and passion for bringing out the best in girls. One hundred years later, the unique melding of these two women continues to shape the bold promise that is central to the Nightingale experience: we will educate the mind and heart in equal measure, and we will make an absolute commitment to the success of every girl. Keep that promise in mind as you navigate our website to learn more about the Nightingale of today.
One hundred years after our founding, Nightingale continues to thrive. We are at the forefront of global education. We are a model school for environmental sustainability. We provide a cutting-edge health and wellness program. Throughout it all, we have remained committed to a one-schoolhouse philosophy, believing that the strength of our community comes from a conviction that girls are educated best when they are known by all and celebrated for their many talents. This centennial year marks a particularly exciting moment for our school. We welcome you to explore the promise of our second century.
Sincere regards,
Paul A. Burke
Head of School
Paul A. Burke is Nightingale's seventh head of school. An American history teacher for more than a decade, Mr. Burke began his career in 1996 as a college counselor at the Salisbury School in Connecticut. In 2000, he joined the Packer Collegiate Institute in Brooklyn, where he served as a college advisor for three years before becoming a dean of students. He joined the faculty of the Nightingale-Bamford School in 2008 as head of Upper School; he became head of school on July 1, 2012.
A 1996 graduate of Williams College, Mr. Burke earned a master's degree in Educational Administration from Teachers College, Columbia University, where he was inducted into the Kappa Delta Pi honor society. He currently serves as president of the board of the Independent School Admission Association of Greater New York (ISAAGNY) and president of the board of the National Coalition of Girls' Schools. He is a founding board member for Riley's Way Foundation and Summer Steps. In addition, he has previously served on the board of Packer Collegiate Institute and The Browning School. He is married to Christine Rowe Burke, an executive at New York Road Runners; they have three children.
---
Programmatic Highlights
The Nightingale-Bamford School is committed to diversity in an educational environment of responsibility, mutual respect, and empathy. All members of the Nightingale community—students past and present, faculty and staff, administrators, parents, and trustees—are expected to keep their minds and hearts open to difference as a source of strength and a means of growth.
Nightingale provides a liberal arts education adapted for the modern world, a unique combination of the canonical and the contemporary that develops wide-ranging curiosity and learning from Kindergarten through senior year. Across all disciplines, teachers encourage creativity, independence, and self-reliance, as well as intellectual discipline and the ability to work and play effectively as a group.
Whether she starts in Lower, Middle, or Upper School, every girl at Nightingale comes to be known through every age and stage, every talent and trial. She works with teachers who celebrate that no two girls are alike, teachers who tailor their work to meet her individual needs, teachers who exhibit at the Whitney and are nominated for National Book Awards, teachers who never stop learning. She also comes to know herself and all that she is capable of. We create a place where she can learn to speak her mind and her heart—a place where she can gain the knowledge and insight to have something to say and the confidence and courage to say it.
The school's vision to serve as a global leader in girls' education is evident throughout much of its curriculum and programming. Examples from just the last two years include:
Nightingale was the first school in New York City to partner with Round Square, an international network of schools committed to character education and experiential learning;
Nightingale is a lead school in receiving funding from the EE Ford Foundation as a model of environmental sustainability;
Nightingale boasts a cutting-edge health and wellness program designed specifically for girls that guides them toward cultivating meaningful and healthy relationships with others as well as developing and maintaining a positive relationship with oneself;
Head of School Paul A. Burke serves as president of the National Coalition of Girls' Schools (NCGS), a leading advocate for girls' schools nationwide.
One hundred years after its founding, Nightingale continues to thrive. Nightingale has remained committed to a one-schoolhouse philosophy throughout its first century, believing that the strength of the community comes from a conviction that girls are educated best when they are known by all and celebrated for their many talents.
---
The Nightingale-Bamford School Benefits
The Nightingale-Bamford School offers a dynamic and supportive work environment, competitive salaries and a generous benefits package including, a retirement plan, paid vacations, and medical insurance. The Nightingale-Bamford School is an Equal Opportunity Employer.
---
Contact Information
To explore this superb career opportunity on a highly confidential basis please send a letter of interest and a resume (both as Microsoft Word documents) to:
Doug Cooney, Executive Search Consultant, Deerfield Associates Executive Search, Inc.
572 Washington Street, Suite 15, Wellesley, MA 02482
Telephone: 781.237.2800
Email
---