Williston Northampton School
Chief Financial Officer
Deerfield Associates has been retained by the Williston Northampton School, located in Easthampton, Massachusetts, to conduct a national search for a Chief Financial Officer. The target hire date is July 2023.
---
The Williston Northampton School is an independent, coeducational boarding school for 420 students in grades 9 through 12. Approximately 70% are boarding students and 30% are day students, with students matriculating from 25 states and 28 countries. Seventy-five students also attend Williston's Middle School in grades 7 and 8.
The school is located in Easthampton, Massachusetts on a beautiful 125-acre campus with 50 separate buildings in the heart of the historic Pioneer Valley in scenic Western Massachusetts. In addition to its primary academic buildings, the campus features a mix of large and small residential dorms for girls and boys; a 40,000-volume library; Student Center; theater and performing spaces; arts studios and a gallery. Its superb athletic facilities host more than 60 teams in 32 interscholastic sports and include an Athletic Center with pool, basketball and squash courts, and strength conditioning area; an ice rink; two synthetic turf fields; an outdoor track; and a 12-court tennis complex.
Williston's nationally-recognized Curricular Technology Program puts a hybrid tablet device in the hands of every student and teacher. Its Williston Scholars program gives students an opportunity to pursue independent directed study and research. Williston graduates go on to attend some of the most selective colleges and universities in the country.
The campus is located within the Five-College area which includes Mt. Holyoke College, Amherst College, Smith College, Hampshire College and the University of Massachusetts, Amherst.
Williston Seminary was founded in 1841 by Samuel and Emily Williston. In 1924, the school was renamed to Williston Academy. Sarah B. Whitaker and Dorothy M. Bement founded the Northampton School for Girls. In 1971, the two schools merged to form the Williston Northampton School.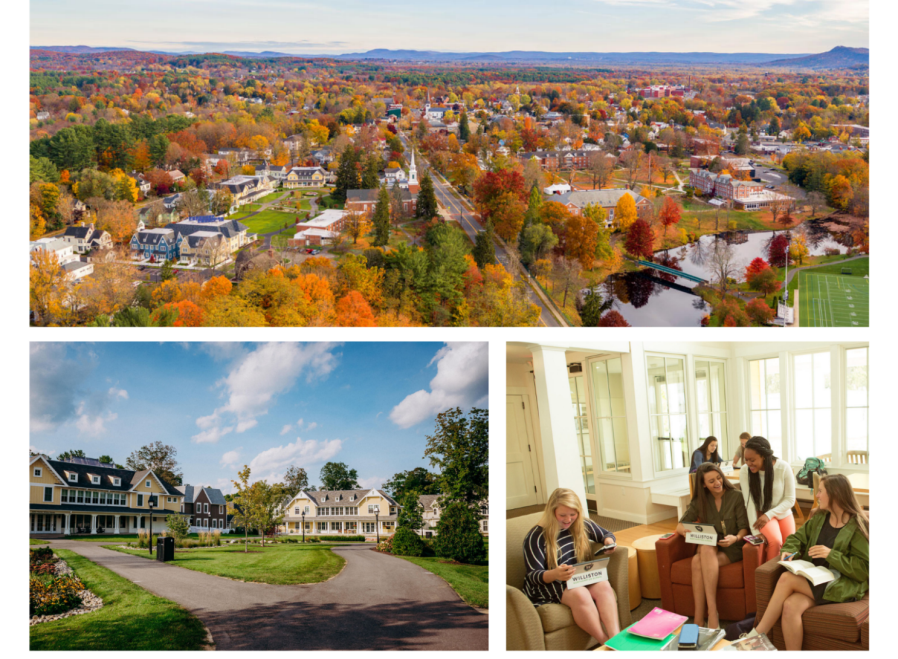 ---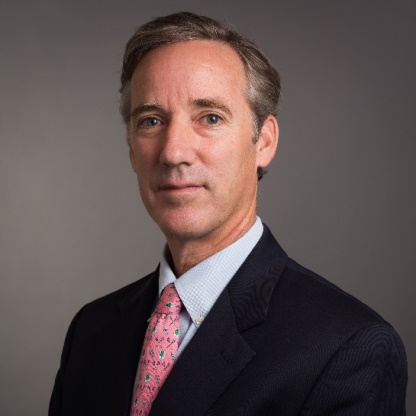 Robert W. Hill III was appointed as the nineteenth Head of School, effective July 1, 2010. Ninety-six teaching faculty also act as dorm parents, advisors, and coaches, with 75 percent holding advanced degrees.
Now in his 13th year as Williston's 19th Head of School, Bob Hill has brought a strong focus on creating an exceptional boarding school experience for students. Under his decade-plus of leadership, Williston has instituted innovative new curricular initiatives and academic support programs; expanded faculty professional development; and strengthened residential student life. Prior to Williston, Bob served as Associate Head of School at Carolina Day School in Asheville, NC following two decades of teaching and other roles at St. Paul's (NH) and Westminster (CT).
The endowment currently stands at $48 million. Williston has a $30 million operating budget with $6.7 million dedicated for financial aid. The annual fund raised $2.5 million in 2021-2022 and other gifts averaging $5.3 million annually since 2020. There are currently 7,000 solicitable alumni and 1,800 friends and parents. www.williston.com
---
KEY RESPONSIBILITIES
The Chief Financial Officer (CFO) is a senior member of the Williston Northampton administration, reporting directly to the Head of School responsible for financial, operational, and personnel matters. Additionally, the CFO is responsible for establishing financial and administrative objectives, policies, programs and practices consistent with the Board of Trustees policies and legal guidance. The CFO works extensively with the Finance Committee, Investment Sub-Committee, Audit & Risk and Facilities Committee of the Board of Trustees. On matters of compensation compliance, the CFO reports directly to the Board of Trustees Executive Committee annually.
Essential Functions:
Financial Management and Planning
Responsible for the oversight of all financial operations, including endowment, investments, cash management, financial analysis, budget management, debt compliance and all tax-exempt financing
Serve as liaison to the Board of Trustees Finance Committee and the Facilities Committee
Serve as primary liaison to the Board of Trustees Investment Sub-Committee and the Audit & Risk Committee, with the Director of Finance and Auxiliary Operations serving as a secondary liaison
Monitor all loans and indebtedness, including any possible interfund loans and transfers
The CFO is ultimately responsible for acting on Endowment investment decisions made by the Investment Sub-Committee of the Finance Committee
Working in collaboration with the Director of Finance and Auxiliary Operations, these decisions may include investment changes, as well as increases and decreases in investment levels and executing approved draws from Endowment
Responsible for dictating purchasing policies/procedures and internal control/audit functions
Financial Management and Planning
In collaboration with the Director of Finance and Auxiliary Operations, responsible for the management of operational cash flow by maintaining adequate sources from operations and borrowing and invest excess cash in short term funds in accordance with established policy
Approve all agreements concerning financial obligations, such as contracts for products or services and other actions requiring a commitment of financial resources
Responsible for the financial and legal aspects of executing bids, contracts and leases
Maintain accurate financial records, prepare periodic financial statements, and report on financial affairs of the School to the Head of School and Board of Trustees, in collaboration with the Director of Finance and Auxiliary Operations
Essential Functions:
Prepare all annual budgets and financial forecasts, and review with Head of School on a regular basis. Make recommendations and provide justification for setting annual tuition and fees to the Board of Trustees
Coordinate the long-range plan, assess the financial requirements implicit in this plan and develop alternative ways in which financial requirements can be satisfied
Develop innovative solutions to the challenges in the areas of financial strategies, financial analysis, reporting and information dissemination to management, use of appropriate systems and technology and cost-effective use of resources
Build a strong partnership with Head of School to ensure that the educational goals of the School are in accordance with the business/fiscal goals of the School
Communicate with Head of School and the Board of Trustees fiscal changes and anticipated/unanticipated fiscal challenges in a timely fashion
Collaborate with Senior Leadership team with all strategic planning and serve in leadership capacity during the absence of the Head of School
Compliance officer for all post-issuance compliance for the school's outstanding tax-exempt debt
Risk Management
Responsible for the school's insurance coverage, liability and risk-related policies and controls. Work with insurance advisors and brokers to insure that adequate, appropriate and cost-effective insurance is in force, including public liability, property and casualty, directors and officers, and Workers Compensation, in collaboration with the Director of Finance and Auxiliary Operations
Serve as resource for knowledge and skill to mitigate liability exposure through a system of policies, procedures and appropriate insurance coverage
Work with Director of Campus Safety to ensure all practices, systems and emergency plans are in place, up-to-date, and well communicated to the entire Williston community and understood by all constituents
Serve on the First Response Emergency Team (FRET)
Oversee all campus and work safety issues, regulatory and environmental compliance, and any legal matters
Ensure compliance with all government regulations including ADA, OSHA, IRS reporting, hazardous materials, fire/health and building inspections, and EPA issues
Serve as liaison with the school attorneys
Maintain vigilance for situations that could pose a safety or health hazard and recommend appropriate action
Business Relationships
Establish business relationships for services that meet the needs of employees, students and students' families
Maintain relationships with financial institutions and as needed in conjunction with the Head of School
Administer banking arrangements and monitor all loans and indebtedness, including interfund loans and transfers, in conjunction with Director of Finance and Auxiliary Operations
Personnel Management
Oversee the employee benefit program, all employment practices related to non-academic personnel, employee morale, payroll services and reporting and employment compliance, in conjunction with the Human Resources Director
Supervise and manage human resource functions including the writing, implementing and maintaining appropriate personnel policies. in conjunction with the Human Resources Director
Ensure that the School's personnel policies support its programs and that the school's actions regarding hiring, compensation, training, promotion and separation conform with state and federal requirements
Oversee human resources function so that all staff personnel issues including evaluations, compensation, discipline, hiring and terminations are addressed
Working with the Human Resources Director, supervise maintenance and security of personnel records
Facilities Management
Work with Director of Physical Plant in all aspects of plant operations, facilities usage and planning, procurement, general transportation and vehicle care
Oversee all construction project planning and campus renewal programs as well as general maintenance, housekeeping, and groundskeeping
Oversee facilities maintenance including preventative maintenance activities, capital planning (utilizing PPRRSM when appropriate), and consider all state and federal regulations governing school facilities
Communications, Technology, and Administrative Support Systems Management
Ensure the development and support of campus technology infrastructure, support for administrative computing systems and maintenance of all telecommunications systems, in collaboration with the Chief Information Officer (CIO)
Auxiliary Services and Program Management
Oversee the internally operated dining services and snack bar, in collaboration with the Director of Finance and Auxiliary Operations
Maintain current summer programs and school-year rental relationships and cultivate new internal summer programs that will generate additional revenue and will market Williston, working in conjunction with the Summer Programs Director
Develop and manage all appropriate sources of non-tuition revenues
In collaboration with the Director of Finance and Auxiliary Operations, work directly with the Director of Children's Center to ensure the operation is successful and in compliance with all appropriate guidelines, regulations, and is financially sustainable
Town Relationships
Represent Williston in nearly all local governmental matters
Be the regular public representative of Willison at all local events, unless circumstances dictate that the Head of School may be a more appropriate representative
---
Additional Responsibilities:
Responsible for nine direct reports: Director of Finance and Auxiliary Operations, Director of Physical Plant, Human Resources Director, Director of Campus Safety, Chief Information Officer, Director of Dining Services (Sage Dining) Executive Assistant to the Business Office, Summers Programs Director and the Children's Center Director
Indirectly responsible for more than 100 non-academic staff
Required to wear proper attire, consistent with school's dress code at all times and to maintain positive attitude and appearance in accordance with department/school standards
Must maintain high level of professionalism at all times
All school employees have some responsibility for reporting inappropriate behavior to School Administration in order to maintain a safe learning environment
All school employees must acknowledge receipt of the current Williston Employee Handbook and are responsible for reviewing the contents and must abide by rules, policies and procedures stated in the document
Faculty and Administration shall be responsible for reviewing and understanding the provisions stated in the Faculty/Administration Supplement
Serve as member of Williston's Senior Administrative Team
Other duties as requested or assigned per the Head of School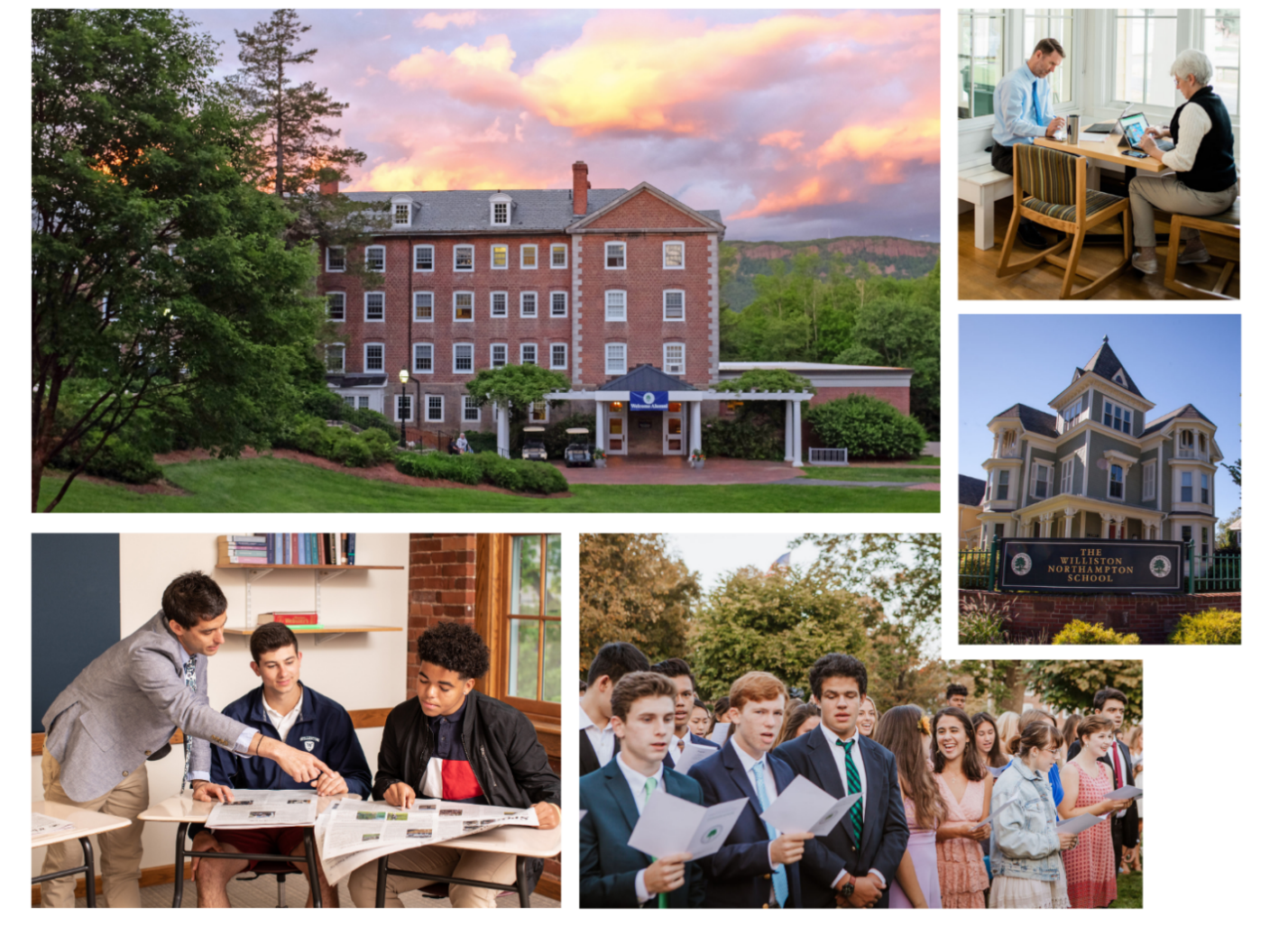 ---
Qualifications:
Bachelor's Degree required; Advanced degree preferred MBA or related field
Ten years plus of experience in accounting, financial analysis, and budget formulation, ideally in education
Experience/knowledge of independent schools, and particularly boarding schools, is extremely beneficial
Strong interpersonal, communication, and management skills
Working knowledge of federal and state employment law, including HIPAA, FMLA, ADA, FLSA and EEO
Ability to solve a wide range of problems
Knowledge of financial/business analysis techniques with the ability to analyze and organize financial data
Ability to use independent judgment and to manage and impart information to a range of constituents
Successful hand-on leadership experience within a progressive, diverse, multicultural learning environment with proven ability to work well with a variety of constituents
Exceptional analytical skills, with a collaborative yet clear and decisive leadership style
Patience and persistence, with an eagerness to set ambitious, challenging, and tangible goals and a relentless drive to achieve them
Have excellent integrity and demonstrate good moral character and initiative with a professional demeanor
Strong interpersonal skills, including an enthusiastic, collaborative approach in working with colleagues
Strong organizational skills for multi-tasking and prioritizing responsibilities to manage competing deadlines
Strong writing and communication skills with the ability to develop and deliver well-articulated presentations
Extensive working knowledge of Microsoft Office Suite, (Word, Excel, etc.). Proficiency with technology is essential. Knowledge of Blackbaud and Veracross, the two primary databases, is a distinct plus
Must have the ability to work in a school environment by successful completion of all legally required and school required background checks including the state mandated CORI, Criminal Offender Record Information, SORI, Sex Offender Record Information and Fingerprint based criminal background check
All employees are required to participate in annual harassment awareness training as a condition of employment
Must convey a positive attitude and project a confident demeanor
Ability to maintain a strict sense of confidentiality
Regular consistent attendance and punctuality is required as a condition of employment.
A valid driver's license is required.
---
Williston Northampton School
The Williston Northampton School offers a dynamic and supportive work environment, competitive salaries and a generous benefits package including medical plans, a retirement plan and paid vacation. www.williston.com
As an inclusive community, the Williston Northampton School is an Equal Opportunity Employer. The Williston Northampton School does not discriminate on the basis of race, color, religion, gender, sexual orientation, national or ethnic origin in the administration of its educational, admission, financial aid program, employment policies, or any other programs administered by the school.
---
Contact Information
To explore this superb career opportunity on a confidential basis, please send your resume, letter of interest and a list of five (5) references (which will only be contacted if mutual interest is determined) to:
Doug Cooney, Executive Search Consultant, DEERFIELD ASSOCIATES Executive Search, Inc.
572 Washington Street, Suite 15, Wellesley, MA 02482 Telephone: 781-237-2800.
Email: jobs@deerfieldassociates.com